Hong Kong Braces for Weak Jobs Data in Latest Blow to Economy
(Bloomberg) -- Hong Kong's economy is set to take another hit with jobless data for January expected to show a fourth straight monthly increase, extending its longest stretch of gains in a decade after months of political unrest.
The city's unemployment rate is forecast to have risen to 3.4% in January, the highest level since 2016, according to the median estimate in a Bloomberg survey. With the economy in recession, the jobless rate steadily ticked higher through the second half of last year.
The latest reading also likely does not capture the full effects of escalating shutdowns from the coronavirus outbreak, which accelerated toward the end of the month.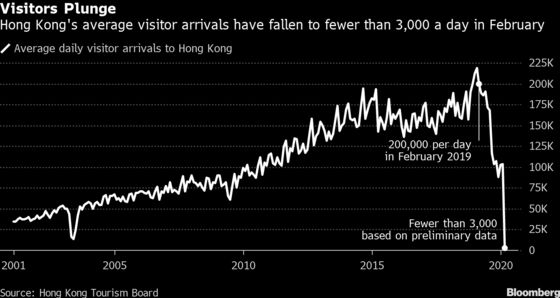 Early indicators are hinting at more severe damage to come. Preliminary visitor arrivals data for February show average daily traffic to the city plummeted to fewer than 3,000 people, according to the Hong Kong Tourism Board. That's an almost 99% decline from just shy of 200,000 a day during the same period last year, data compiled by Bloomberg show.
Hong Kong is facing "tsunami-like" shocks that can cause the unemployment rate to "deteriorate rapidly," Financial Secretary Paul Chan said in a blog post Sunday. The growing economic pain may lead to a record budget deficit in the next fiscal year as the government pledges further stimulus to support battered industries, he said. Chan is expected to unveil his next budget on Feb. 26.
The government will seek approval from the territory's legislature for at least HK$25 billion ($3.2 billion) in fresh funding to reduce the effects of the coronavirus outbreak on the city, Chief Executive Carrie Lam said Friday, part of wider stimulus efforts across the region.