Home Prices in 20 U.S. Cities Rise by Most in Almost a Year
Home prices in 20 U.S. cities advanced in December by the most in nearly a year on the heels of stronger demand and lean inventory.
The S&P CoreLogic Case-Shiller index of property values increased 2.9% from the same month the previous year, data released Tuesday showed. That's the biggest annual advance since January 2019 and matches the median forecast in a Bloomberg survey of economists. Prices were up 0.4% from November.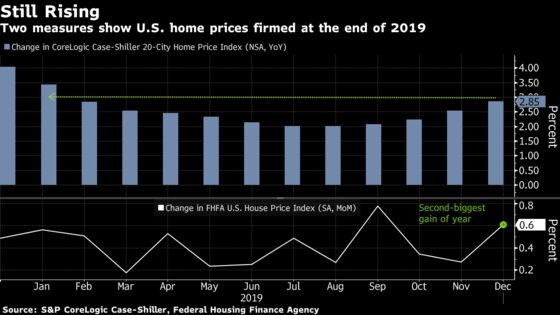 Mortgage rates, already near three-year lows, could decline further in conjunction with the latest drop in U.S. Treasury yields. Cheaper financing costs will likely underpin demand in a market constrained by lean inventory, leading to further home-price appreciation.
A separate gauge from the Federal Housing Finance Agency, which tracks repeat sales and derived from conforming loans, showed home prices climbed 0.6% in December from the previous month, the most since September, and were up 1.3% in the fourth quarter.
Prices in all 20 cities increased in the year through December, led by Phoenix; Charlotte, North Carolina and Tampa, Florida.
National U.S. home prices increased 3.8% in December from a year earlier, the strongest annual advance since February.