Home Prices in 20 U.S. Cities Rise by Least in Almost a Year
(Bloomberg) -- Home-price gains in 20 U.S. cities grew in July at the slowest pace in almost a year, a sign demand is increasingly bumping up against affordability constraints, according to S&P CoreLogic Case-Shiller data released Tuesday.
Highlights of Home Prices (July)
20-city property values index increased 5.9% y/y (est. 6.2%), least since Aug. 2017, after rising revised 6.4%
National home-price gauge rose 6% y/y
Seasonally adjusted 20-city index gained 0.1% m/m (matching est.)
July marked the fourth consecutive month that annual price gains in the 20-city index decelerated. That's in sync with other reports indicating housing is stalling as buyers shy away from higher prices amid mortgage rates near the highest since 2011, in addition to a lack of choice among affordable properties. At the same time, steady hiring and elevated confidence are supporting demand.
Prospective buyers -- especially younger ones or those purchasing for the first time -- may get further relief as home-price appreciation moderates, although it is still outpacing wage growth. On the flip side, price gains keep adding to homeowner equity for others.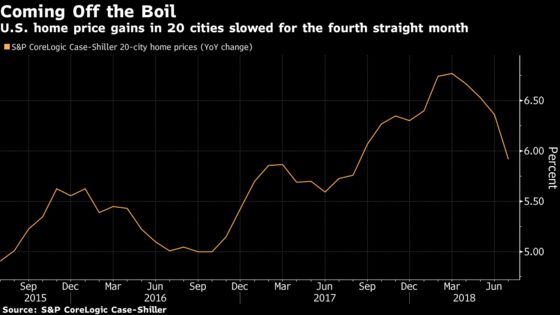 The report showed four cities recorded monthly price declines in July, led by New York, followed by Boston, Chicago and Dallas. Thirteen showed gains, while three were unchanged.
A separate report released Tuesday by the Federal Housing Finance Agency -- which tracks sales of single-family homes financed with mortgages owned or securitized by Fannie Mae and Freddie Mac -- also showed a slower pace of gains. Prices rose 6.4 percent in July from from a year earlier, compared with a 6.6 percent annual gain in July 2017. The monthly increase from June was 0.2 percent, less than the median 0.3 percent estimate of economists.
"The slowing is widespread," David Blitzer, chairman of the S&P index committee, said in a statement. "Fifteen of 20 cities saw smaller monthly increases in July 2018 than in July 2017."
All 20 cities in the index showed year-over-year gains, led by a 13.7 percent increase in Las Vegas and a 12.1 percent advance in Seattle
Washington area had smallest annual gain at 2.7 percent