Home Prices in 20 U.S. Cities Post Smallest Gain Since 2016
(Bloomberg) -- Home prices in 20 U.S. cities rose in June at the slowest monthly pace in almost two years, as demand cools in the face of affordability constraints including elevated mortgage rates, according to S&P CoreLogic Case-Shiller data released Tuesday.
Highlights of Case-Shiller Home Prices (June)
Seasonally adjusted 20-city index rose 0.1% m/m (est. 0.2%) after 0.2% gain the prior month; smallest gain since July 2016
20-city property values index increased 6.3% y/y (est. 6.4%), after rising 6.5% the prior month; smallest since Dec.
National home-price gauge advanced 6.2% y/y after 6.4%; slowest advance since Nov.
The figures reinforce other recent signs that the residential real estate market is softening. The National Association of Realtors said purchases of previously owned homes fell to a two-year low in July amid supply constraints and escalating prices. Government data showed a similar trend in the new-home market, with sales dropping to a nine-month low.
While a strong job market and elevated consumer optimism have continued to provide support for home sales in major cities, hurdles include mortgage rates near a seven-year high, as well as a dearth of listings. Wage gains also remain tepid.
Las Vegas led the latest gains with a 13 percent annual increase, displacing Seattle as the fastest gainer, as employment and population advance in the Nevada city, according to the report. Seattle had a 12.8 percent increase, followed by 10.7 percent in San Francisco. While all cities posted advances from a year earlier, New York was the only metropolitan area to see a drop from the previous month, as changes to tax deductions hamper demand.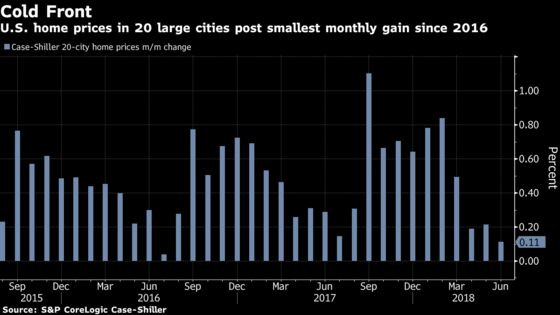 "Even as home prices keep climbing, we are seeing signs that growth is easing in the housing market," David Blitzer, chairman of the S&P index committee, said in a statement. "Sales of both new and existing homes are roughly flat over the last six months amidst news stories of an increase in the number of homes for sale in some markets."
After seasonal adjustment, Las Vegas had biggest month-over-month rise at 1.4 percent, followed by Cleveland, Detroit and Minneapolis, each with a 1 percent increase
After New York's decline, Dallas had smallest gain at 0.4 percent