Holed Up in Mansion, Ousted Sri Lanka Prime Minister Vows to Fight
(Bloomberg) -- While entertaining supporters in the picturesque, seaside town of Galle last Friday, Ranil Wickremesinghe received an urgent call from an aide: he'd just been ousted as Sri Lanka's prime minister.
The news came as a shock to Wickremesinghe, who rushed back to Colombo, the capital -- a brisk two-hour drive. He held a late-night meeting with his party and other parliamentarians at the prime minister's official residence, a stately white building surrounded by manicured lawns that used to house the British colonial secretary.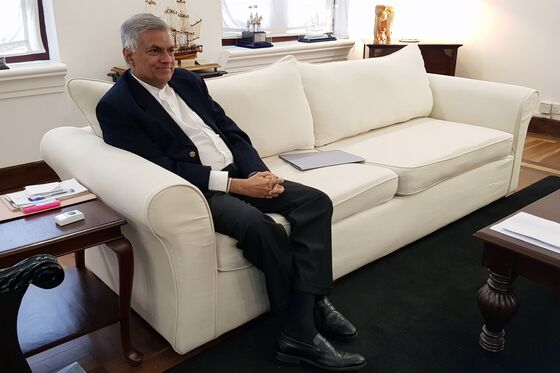 "I decided to stay overnight, and the next day people started coming," he said in an interview on Wednesday from his office in the building, known as Temple Trees. "And we found that it had become a symbol. So we've stayed on."
Wickremesinghe's supporters have since flocked to the complex, where a group of Buddhist monks sit chanting at a makeshift prayer hall erected near the front gate. The crowds are coming in part because the ousted leader's official security detail has been slashed from around 1,000 personnel to just 10, according to one aide.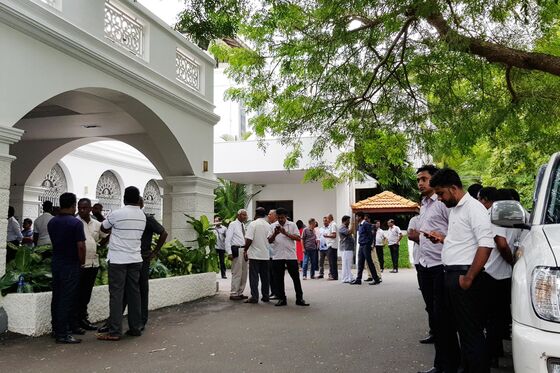 Right now, it's unclear how long Wickremesinghe can hang on. He was fired by former ally President Maithripala Sirisena, who has since suspended parliament until Nov. 16 to give time for newly appointed Prime Minister Mahinda Rajapaksa to woo lawmakers to his side.
While Wickremesinghe insists he holds a majority in parliament and his ouster was illegal, Rajapaksa -- a former strongman who ruled as president between 2005 and 2015 -- enjoys widespread support for ending the country's brutal 26-year civil war. Growing economic woes have only reinforced the notion among many in the country that it's time for a change.
On Thursday, Rajapaksa said the president would lift the suspension on parliament and reconvene the legislature on Nov. 5, the same day the previous government was meant to deliver its budget.
"Rajapaksa is likely here to stay," said Shailesh Kumar, Asia director with political risk firm Eurasia Group.
The political upheaval is reverberating around the region, with analysts predicting Rajapaksa will again cozy up to China to fund costly infrastructure projects. That raises uncertainties for bond investors and the future of an International Monetary Fund program in a nation where roughly 80 percent of total government revenues go toward paying debt.
Wickremesinghe, who steered the economy and regularly traveled overseas as Sri Lanka's face to the world, described the political chaos unfolding around him as "not one step back, but many steps back."
He rejected allegations of economic mismanagement, though acknowledged the unity government between himself and Sirisena operated with a "certain amount of dysfunction" because it combined two large political parties. The current political upheaval will make it even harder for the country to deal with its enormous debt burden, he said.
"I want to resolve this quickly so we can ensure there's no default," Wickremesinghe said. "A constitutional crisis is enough to create a financial crisis."
There's still a slim chance that Wickremesinghe could hang on. Karu Jayasuriya, the speaker of parliament, on Tuesday asked Sirisena to reconvene parliament immediately, saying more than 125 members of the 225-seat body want to let the majority form the government.
'They Don't Have the Numbers'
"We need to conclude this," Wickremesinghe said. "They don't have the numbers."
Sirisena's camp insists it can form a government. In an interview on Wednesday evening in Colombo, Namal Rajapaksa, a federal lawmaker and son of the new prime minister, said it was necessary to suspend parliament ahead of the budget due to be delivered by Wickremesinghe on Nov. 5.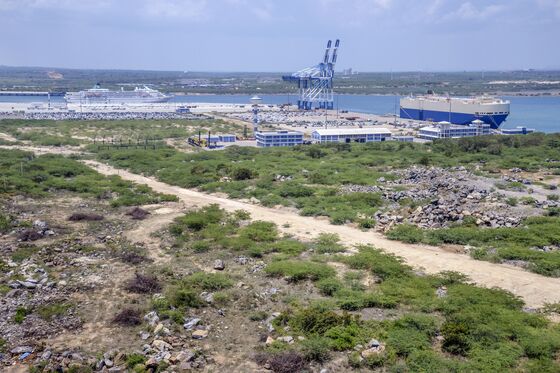 He rejected Wickremesinghe's assertions that Rajapaksa's appointment would worsen the country's debt burden. The new prime minister, who had earlier approved questionable projects such as a barely-used port and airport in his home district of Hambantota in the south, said Wednesday that Sri Lanka will continue to pay its debts.
"During all these years, ever since independence, Sri Lanka has paid on time," Namal Rajapaksa said shortly after meeting with his father, who is also taking on the role of finance minister. "We've never got into a situation where we couldn't repay our debts. And all these projects are infrastructure projects, which give value to the country."
Assassination Plot
In an address to the nation this week, Sirisena said he fired Wickremesinghe in part because he failed to properly investigate an assassination plot against him. He also said an unnamed cabinet minister was involved in the plot, and officials in the administration were seeking to pressure the investigation.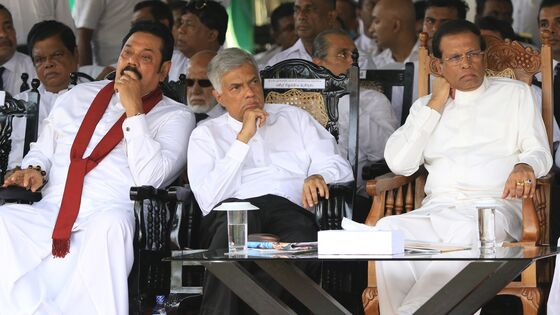 Wickremesinghe said he heard those complaints for the first time when the president made the speech.
"It's cooked up," Wickremesinghe said, sitting on a white couch below a framed picture of Sirisena handing him his cabinet appointment in 2015, after the two defeated Rajapaksa. "I spoke to the minister of law and order, and said 'Investigate fully and keep the president informed."'
In the meantime, British Foreign Secretary Jeremy Hunt said there were fears about Wickremesinghe's safety. "We are watching the situation with a great deal of concern," he told parliament on Tuesday in response to a question.