History Shows Turkey May Hike Soon, Yet Not Soon Enough for Some
(Bloomberg) -- History suggests that Turkey's central bank is setting the stage for a rate increase.
The last time the monetary authority issued a statement that it would take "necessary" action -- similar to its warning on Wednesday -- was in January 2017. Two weeks later, it raised rates at a scheduled meeting. While volatility on the lira has surged to levels that preceded last year's intervention, this time policy makers don't quite have the same tool kit to guide traders.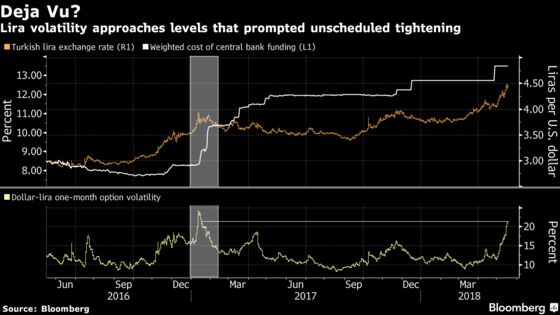 In the run-up to the January 2017 meeting, the central bank started tightening by turning off lenders' access to cheaper cash, forcing them to borrow at a more expensive rate. By the time policy makers convened, the bank had already raised average funding costs by more than 80 basis points, signaling that more was on the way.
Today the central bank has no such option since it already provides 100 percent of Turkish lira funding through its late-liquidity window, the most expensive of its three lending rates. President Recep Tayyip Erdogan's distaste for higher borrowing costs is also a factor that could constrain policy makers ahead of their June 7 meet, according to UniCredit SpA.
"While precedent suggests many signals are in place that speak for an emergency central bank rate hike, strong opposition from the government and President Erdogan, in particular, makes this prospect less likely this time around," said Kiran Kowshik, a strategist at UniCredit in London.