Higher German Industrial Output Offers Hope for End of Slump
German industrial production rebounded in November after two months of declines, in a cautious sign that Europe's largest economy may be near the bottom of its manufacturing slump.
Output rose 1.1%, the most in 18 months, beating forecasts for a 0.8% increase. October figures were revised to show a smaller decline than initially reported.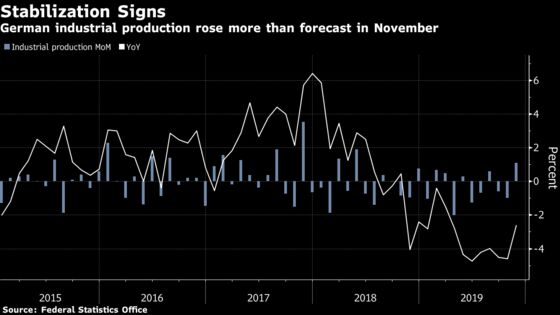 The data will be keenly watched by the European Central Bank, which has ramped up monetary stimulus to combat a slowdown in the currency bloc. Policy makers hold their next rate-setting meeting on Jan. 23.
German manufacturing remain burdened by issues ranging from the U.S.-China trade conflict and Brexit uncertainty to its own struggles to manage the auto sector's shift to electric vehicles. Industrial production was down 2.6% from a year ago, though that was the least since March.
Other figures this week showed factory orders tumbling, and exports dropped 2.9% in November compared with a year earlier.
Germany's Economy Ministry said Thursday that the industrial downturn hasn't yet been overcome, but a pickup in business expectations suggests that things "should brighten somewhat in the coming months."
What Bloomberg Economists Say...

"We are fairly confident that the downturn is reaching a floor, with global trade uncertainty receding and business surveys beginning to turn up. Still, weak factory orders figures published yesterday are a reminder that any rebound is likely to be modest in the near term."

--Jamie Rush. Read the full REACT
While the nation narrowly escaped a recession last year as its services sector remained robust, the Bundesbank predicts the industrial downturn will bleed into the wider economy through 2020. It estimates that the economy stagnated last quarter -- an initial estimate will be released on Jan. 15 along with full-year figures.
Read more...
German Industry on Firmer Ground, No Big Rebound: Economics