Here's One Less Thing for Hong Kong Homebuyers to Worry About
(Bloomberg) -- Hong Kong, the world's least affordable housing market, can be a depressing place for people trying to buy a home. But they can at least take comfort the city's banks are taking it slow in the rate-hike cycle.
HSBC Holdings Plc, BOC Hong Kong Holdings Ltd. and Standard Chartered Plc all left their key lending rates unchanged in Hong Kong on Thursday after the U.S. Federal Reserve raised its target range by a quarter percentage point.
"Banks are acting proactively now in order to reach their mortgage volume targets in the coming year," said Ivy Wong, a managing director at Centaline Mortgage Broker Ltd. "What they can do is very diverse, from maintaining a competitive mortgage rate to offering rebates."
Banks are keeping borrowing costs low and offering other sweeteners like cash rebates and discounts because of strong competition in the sector. Effective rates are around 2.38 percent, lower than 2012 levels, even after signs an almost 15 year bull run in property prices is coming to an end. Goldman Sachs Group Inc. is forecasting a 15 to 20 percent drop in home prices over the next two years.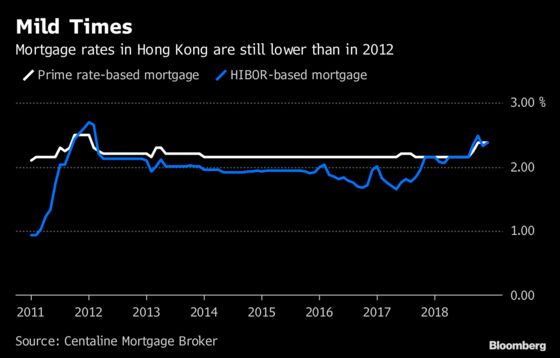 HSBC is the city's largest lender in terms of the number of loans extended for finished apartments this year, Centaline Mortgage Broker data show. Bank of China Ltd.'s Hong Kong-based unit is the second-largest mortgage lender this year, while Hang Seng Bank Ltd. isn't far behind.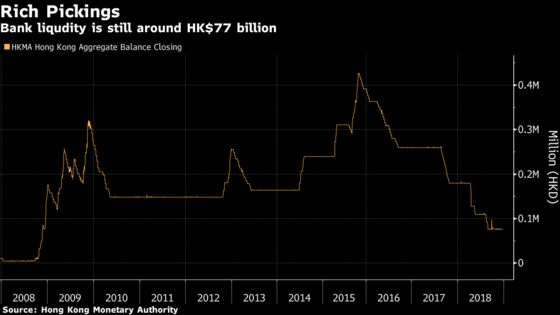 Liquidity remains abundant even though interbank funding has been tight in recent weeks, Norman Chan, chief executive of the Hong Kong Monetary Authority, said on Thursday.
Read more: Hong Kong Bank Profit to Come Up Short on Loans, Fees, Property
The aggregate balance -- a metric that measures the liquidity of commercial banks -- has been stable since the last rate hike by Hong Kong banks in September. That increase was the first since 2006. And liquidity is still greater than it was before the dawn of U.S. quantitative easing in 2008, hovering around HK$77 billion ($9.8 billion).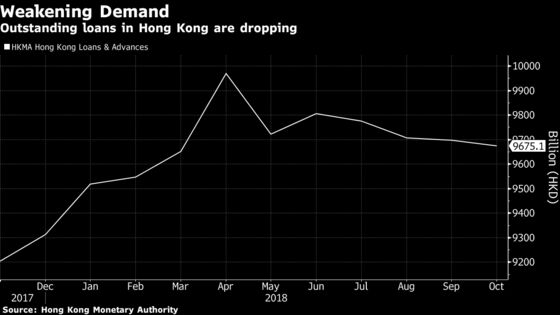 There's also limited room for lenders to boost mortgage rates. Overall loan demand is lackluster as central banks the world over withdraw stimulus, and trade tensions between the U.S. and China rise. Concern about leverage in China also means there's less opportunity for banks in Hong Kong to make advances to mainland firms. Outstanding loans in Hong Kong have dropped every month since July, HKMA data show.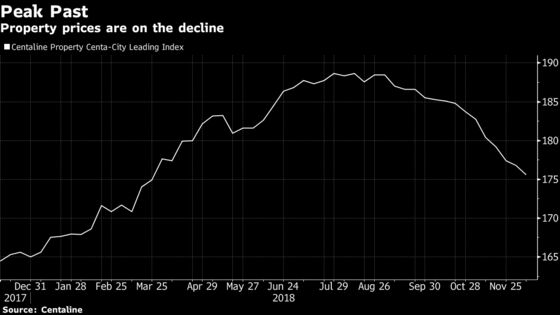 The city's weaker property market may also weigh on banks' mortgage businesses. Property prices are down 7 percent from their August peak.
"The property market should remain quiet," said Joyce Kwock, head of property research in Nomura International (HK) Ltd. "There will be less aggressive bidding"' for homes.