Hedge Funds Have Never Needed a Bezos Beat More: Taking Stock
(Bloomberg) -- Stock futures are barely budging relative to the havoc wreaked by Facebook in the tech space. Case in point is the the ETF that tracks the Nasdaq 100 index (QQQ), which is reversing ~1.5% lower in pre-market trade after notching a record high close on Wednesday.
Optimism out of the Trump-Juncker tariff breakthrough meeting may be buoying the broader tape -- it certainly gave a bid to the European automakers (Fiat Chrysler +4.7%, BMW +3%, Daimler +2.2%) -- but the collapse of the NXP Semi/Qualcomm deal shouldn't be swept aside as just a loss for so many risk arbitrage traders.
Many will see this as an opportunity squandered for a potential peace offering by the Chinese and are in wait-and-see mode until Trump lashes out with more threats. Don't forget that it was less than a week ago when Trump said he was "ready to go" with tariffs on $500 billion of Chinese goods. Plus the trade war with China has been much more of a market mover than anything going on with the EU, so we may all just be biding our time until the next wrench gets thrown.
And it's possible the U.S.-EU agreement isn't such a great sign anyway, if you go by the latest take from Goldman Chief Economist Jan Hatzius, who says the news isn't uniformly positive given 1) the lack of specifics in the announcement raises the possibility that the negotiations may falter at a later stage, like the U.S.-China talks earlier this year, and 2) the pact may embolden the White House to use proposed tariffs to try to win concessions from other trading partners, like China. "Overall, we do not believe that recent positive developments regarding US-EU trade should be interpreted as a reduction in risk in the other major trade dispute, with China. In fact, they likely mean the opposite," Hatzius added.
And not to mention the flurry of negative reactions to earnings after the bell that have zero to do with Facebook, for example Nokia, PayPal, Spotify, Ford, Knight-Swift, Mohawk, Mattel, Nielsen, and Biogen (more on this in the sector blow-by-blow section).
Amazon Could Make It a FAANG Trifecta
Two out of the three FAANG earnings have disappointed, but this one stings much more than the other one. If you go by what the options market was pricing in, Facebook's breakdown was infinitely worse (and more surprising) than Netflix, which ended up falling 5.2% the day after earnings versus an implied move of almost 9%; that compares with Facebook's current pre-market plunge of ~21% versus options which implied a move of just 5.5%.
It's too early to know whether this stalls the rally in all-things momentum or acts as another minor bump in the road, like what we saw after Netflix -- the iShares Edge MSCI USA Momentum Factor ETF (ticker MTUM), which is up 25% in the past year and closed at a record yesterday, will be a good indicator -- but recall that we had a brutal reversal in tech earlier this week that collectively puzzled trading pads across the Street, and we now have a painful session ahead of us in the space on the back of Facebook's letdown.
The vanilla and hedge-fund longs still heavily exposed in the space need to tread lightly, especially if Amazon comes in below the whispers after the bell Thursday -- the stock is up 59% year-to-date and closed at another record Wednesday, plus almost every sell-sider is gushingly bullish (48 out of 51 analysts rate the stock a buy while zero have it at sell). The Street has gotten used to decent-sized positive reactions, with shares rising 10 of the last 14 earnings days with an average gain of 7.5% versus an average decline of 4.7%. Oh, and just for good measure, options are implying a 5.4% move on the print.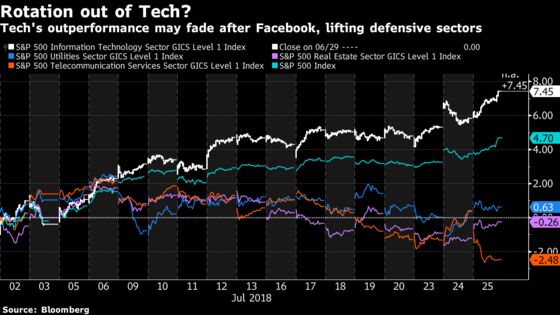 Sectors that may outperform today:
Defensive sectors: Any extended rotation out of tech space should give a shot in the arm to more defensive groups, like utilities and REITs, which have been out of favor since the market rally took off at the beginning of July (see chart above)
Packaged food: Possible positive read-across from solid organic sales and margins at Mondelez (+3.6%)
Apparel: Under Armour is seeing a big move higher (+5.9%) in early reaction to results
Nutrition: GNC is soaring early (+8.4%) after a big beat, following great numbers from Usana on Tuesday; keep an eye on Vitamin Shoppe and Nutrisystem
Sectors that may underperform today:
FAANGs et al: Facebook's nosedive carried over to the FAANGs, with Netflix and Amazon worst hit (both down ~2%), with Bezos' baby scheduled to report tonight; social media peers also took a hit, with Twitter tumbling >4% and Snap ~3%
Semis: The group may get caught up in the downshift in sentiment from the tech carnage and the NXP Semi (-12%) deal break more so than any positive read-throughs from Xilinx (+12%), which got rewarded with a double upgrade from BofAML, AMD (+6%), or SK Hynix (+3.2%)
China deal stocks: Speaking of NXP Semi, the collapse of the $43 billion deal with Qualcomm may hit shares of Oclaro and Orbotech, two companies that are involved in pending acquisitions that require approvals from Chinese regulators
Streaming: May see added pressure for Pandora and other music streamers after Spotify falters (-5.6%) post-results
Fintech: Watch for weakness in Square after a revenue forecast shortfall from PayPal, which dropped over 5% after hours
Housing-related: The XHB may be under further pressure after another awful print in the space, with flooring company Mohawk plunging ~15% post-market after a string of crushing reports from the likes of roofing firm Owens Corning (-8.7% on Wednesday) and appliance maker Whirlpool (-15% on Tuesday), not to mention the big whiff in new home sales yesterday
Autos: Ford got slammed (-3.6%) after slashing its year EPS outlook, a familiar sight for investors in the space given what we saw out of GM in the morning
Truckers: The truckload stocks in particular may be under pressure after Knight-Swift sank ~14% on a miss
Toys: The good vibes from Hasbro's report on Tuesday may have just been wiped out by a sizable miss by Mattel (-8.5%) and the magnitude of the job cuts; the high-flying Funko, which suspiciously sank almost 10% on Wednesday, might be under pressure again in sympathy
Biotech: Watch for weakness after Alzheimer's data from Biogen (-11%) didn't wow, which spilled over to smack AC Immune (-12%); Gilead also fell (-1.5%) after its CEO stepped down
Dental: Names like Dentsply Sirona, Patterson Companies, and Henry Schein may be bogged down by weaker 3Q EPS view from Align Tech; Goldman had warned about weaker forecasts in the space last week, though said Align had better growth outlook than the others
Steels/Aluminum: Watch for weakness in U.S. Steel, AK Steel, Nucor, Alcoa, and others in the space on word that Trump and Juncker would re-examine tariffs on both steel and aluminum
Notes From the Sell Side
Here's a quick look at analyst's headlines for their Facebook notes:
UBS (downgrade to neutral): "Taking a Break From Being Friends"
Nomura Instinet (downgrade to neutral): "Unprecedented Expectations Reset"
Raymond James (downgrade to outperform): "Downgrade to Outperform on Lower Revenue Growth and Margin Outlook"
JPMorgan (remove from focus list): "Major Reset Stories & Data/Privacy Drag on N-T Revs"
Stifel (buy): "Total Reset; Major Management Credibility Rebuild Ahead But Damage Done"
Credit Suisse (outperform): "Long Term Guidance Calling for Margin Compression Raises New Existential Crisis"
Goldman (buy): "Down But Not Out?"
Deutsche Bank (buy): "Tough Outlook But Largely Self-Inflicted to Promote Stories; an Engagement (+)"
Keybanc (overweight): "Shift to Stories Changes Near-Term Outlook; Long-Term Opportunity Remains"
Canaccord (buy): "Q2 Ushers in a Much More Sober Outlook"
MoffettNathanson (buy): "The New Reality or Self-Immolation for Self Protection"
GBH Insights (highly attractive): "Facebook Advertising Trajectory Looks Healthy for 2Q With Some Soft Spots; Street Was Hoping for More"
Macquarie (outperform): "Bombshell Guidance; Structural Shifts"
Susquehanna (positive): "Should FB Trade at a 15%+ Discount to GOOGL?"
Needham (buy): "FB Falls on Guidance; Buy on Weakness"
Pivotal Research (sell): "2Q18 Results OK, But Outlook Suggests Growth 'Wall' In Sight"
Baird says remains buyers of TSLA ahead of the quarter ("we believe favorable management commentary and/or positive updates on July production/demand could contribute to share appreciation").
Keybanc boosted its price target on GRUB to a Street high of $175 after the beat and raise "reinforced our thesis that the digitization of the $190 billion off-premise food opportunity in the United States remains early days and the LevelUp acquisition catapults GRUB's direct channel capture, which we think is half of the total TAM".
Piper slashes 3D printing stock DDD to an underweight after a survey showed system demand downticked sequentially.
Morgan Stanley expects ETFC to explore strategic alternatives after lackluster 2Q results and speculates that the company may be an attractive platform for SCHW or AMTD -- this follows Deutsche Bank yesterday saying that an ETFC/AMTD deal still makes sense.
Tick-by-Tick Guide to Today's Actionable Events
Today -- WTO General Council meeting on U.S. China trade conflict (day one)
Today -- Nafta renegotiation talks restart
7:00am -- SPOT (roughly), CMCSA, HSY, MO, TPX, ADNT, MMC, TREE, AGN, MCK, COP earnings
7:10am -- SPGI earnings
7:30am -- AAL, CME, ALLY, FCN, KIM, CELG earnings
7:45am -- ECB meeting
7:58am -- MCD earnings
8:00am -- SPOT, NXPI earnings calls
8:03am -- MA (roughly) earnings
8:30am -- Durable Goods, Wholesale Inventories, Jobless Claims
8:30am -- Draghi presser
8:30am -- WWE, PCG (roughly) earnings
8:30am -- CMCSA, HSY earnings calls
9:00am -- CFR earnings, MA earnings call
9:45am -- Bloomberg Consumer Comfort
9:45am -- Lighthizer to testify about agency's priorities before Senate subcommittee
10:00am -- GGP shareholder vote on Brookfield deal
10:30am -- EIA natgas storage
11:00am -- Alex Azar delivers "major policy address" on healthcare
11:00am -- MCD, WWE earnings calls
12:00pm -- COP earnings call
1:00pm -- Treasury auction: $30b 7-year notes
2:40pm -- Trump scheduled to deliver remarks on trade
4:00pm -- INTC, LSCC earnings
4:01pm -- AMZN, EA, AMGN earnings
4:02pm -- NATI, FSLR (roughly) earnings
4:05pm -- LRCX, MXIM, CY, PFPT, IMPV, EXPE, VRSN, FLEX, SBUX, FBHS, DECK, LPLA, RSG, EIX earnings
4:08pm -- LOGM earnings
4:10pm -- WDC, CMG, SIVB (roughly) earnings
4:15pm -- JNPR, PRO, BZH, NCR, FICO, FII (roughly), RGA, HIG (roughly), EW earnings
4:17pm -- DFS earnings
4:20pm -- LYV (roughly), AFL (roughly) earnings
4:30pm -- CMG, FSLR earnings calls
5:00pm -- INTC, LRCX, EA, JNPR, SBUX, AMGN earnings calls
5:30pm -- AMZN, WDC earnings calls
6:30pm -- NOV (roughly) earnings
9:30pm -- China Industrial Profits
Tonight -- IPOs scheduled to price: Opera (OPRA), Endava (DAVA)