Hedge Funds' Big Short Could Be Fool's Gold
(Bloomberg Opinion) -- Investors have never been so down on gold.
Managed money funds' position in Comex gold futures and options last week crashed to a net short of 27,156 contracts. That amount — equivalent to 2.7 million troy ounces, or 14 million-odd wedding bands — represents the most bearish position for hedge fund investors in data going back to 2006, outstripping even the major wobble at the end of 2015 as the U.S. Federal Reserve started edging away from its zero-interest-rate policy.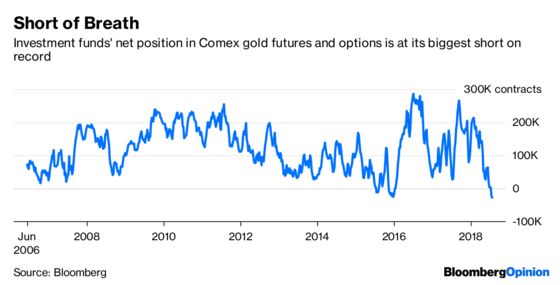 The reason for the attack of nerves isn't hard to discern. The dollar has been rising so much of late that even President Donald Trump, an avowed if seemingly inconsistent fan of a strong greenback, has been fretting that it's hitting the competitiveness of U.S. exports.
Gold tends to rise when the dollar falls and vice versa, so it stands to reason that with the U.S. economy growing at 4.1 percent while the fed funds rate marches north of 2 percent, the dollar should be heading up and gold down.
Even some of the market's favorite gold puts are out of the money. Indian jewelry consumers can often be expected to buy into patches of weakness, but because of the rupee's 7.4 percent decline against the greenback this year they're not seeing much weakness. While dollar-denominated spot gold is at $1,224.22 a troy ounce, more than one-third below its 2011 peak, bullion in Mumbai is trading at 30,600 rupees ($445) for 10 grams, just 6.7 percent below its record level in November 2012.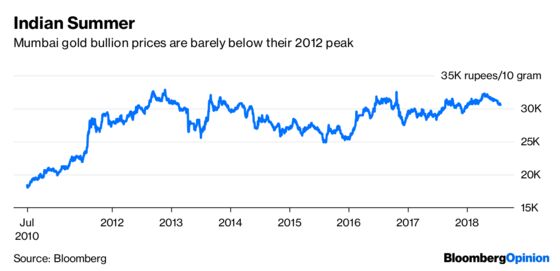 For all that, there's reason to think a corner could be approaching. It's always darkest before the dawn, and extremely bearish positioning often heralds a turn north: Comex copper broke a six-week falling streak last week, just after funds built their biggest net short since Trump was elected.
It's worth looking at the calendar, too. After January, August is arguably the most consistently bullish month for gold. Last year, spot metal rose 4.1 percent during the month. In both 2016 and 2017, ETFs added about 4 percent to their holdings over the three months leading up to the Hindu Diwali festival at the end of October, a traditional period of gold-giving.
On top of that is the currency factor itself. The dollar index fell Friday after the GDP report underperformed some of the market's rosier expectations. The meeting of the Federal Reserve this Wednesday is almost certain to keep rates on hold before raising again in September, based on market pricing. Chairman Jerome Powell's statements that he's more worried about lower than higher inflation in remarks to Congress earlier this month suggest he's happy to let the economy run hotter before pushing rates up much further.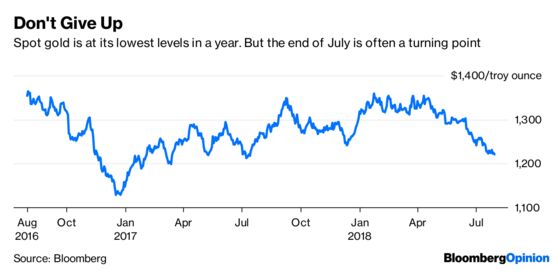 None of that means that gold is heading to the moon. But when even the president is undecided whether he wants a strong or a weak dollar, an asset that trades in large measure off the strength of the greenback shouldn't be treated as a one-way bet.
This column does not necessarily reflect the opinion of the editorial board or Bloomberg LP and its owners.
David Fickling is a Bloomberg Opinion columnist covering commodities, as well as industrial and consumer companies. He has been a reporter for Bloomberg News, Dow Jones, the Wall Street Journal, the Financial Times and the Guardian.