Hedge Fund Plays Trade Spat Shorting China Cars, Buying Travel
(Bloomberg) -- The escalating trade dispute between China and the U.S. prompted hedge fund manager Pinpoint Asset Management to take money off the table earlier this year. It's now game-planning for a potential agreement between the world's top two economies.
"The likely scenario to result from the China-U.S. trade tensions would be a trade deal -- largely due to China conceding," said Jennifer Wong, managing director of investor relations at Pinpoint Asset Management, which manages $3.6 billion in long-short equity and multi-strategy hedge funds focused on Asia.
China's trade concessions may include reducing car-import taxes, allowing greater ownership of financial firms, and taking steps to better protect intellectual property, Wong said in an interview Tuesday. Chinese officials have already made pledges in each of those areas. Pinpoint has taken short positions on Chinese auto manufacturers and domestic companies in their supply chains, Wong said. They've already been bloodied this year.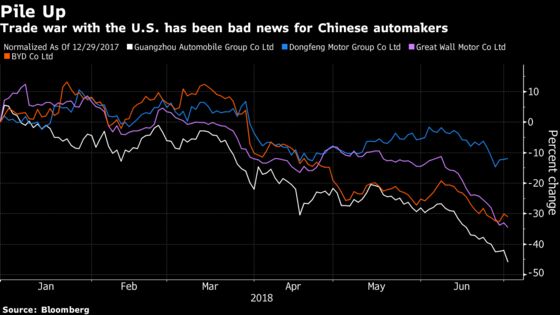 Given the risk of further depreciation in the yuan -- Asia's worst-performing currency since the start of last month -- Pinpoint is hedging the currency risk on its funds through forwards, according to Wong.
"If a trade war takes place then we think that China would use the currency as a means to defend itself," Wong said. The People's Bank of China said Tuesday that the yuan's drop wasn't due to guidance from the central bank and pledged to keep the exchange rate "basically stable at a reasonable and balanced level."
Pinpoint is betting on gains for travel services companies including airlines and budget hotel chains, anticipating that larger numbers of retirees will boost China's travel industry.
Pinpoint's Multi-Strategy Fund climbed 9.4 percent in the first half, and capped 16 consecutive months of gains in June, Wong said. Its China Fund and Plus Fund, which use equity long-short strategies, increased 3.1 percent and 1 percent respectively, she said.