Harker Says Fed May Begin Paring Bond Purchases in Late 2021
(Bloomberg) -- The U.S. central bank may begin paring back its bond-buying program as soon as the end of this year, Federal Reserve Bank of Philadelphia President Patrick Harker said.
"I could see, potentially, that occurring at the very end of 2021 or early 2022. But it is all going to depend on the course of the economy, which will depend on the course of the virus," Harker said Thursday while answering questions after a speech at a virtual event.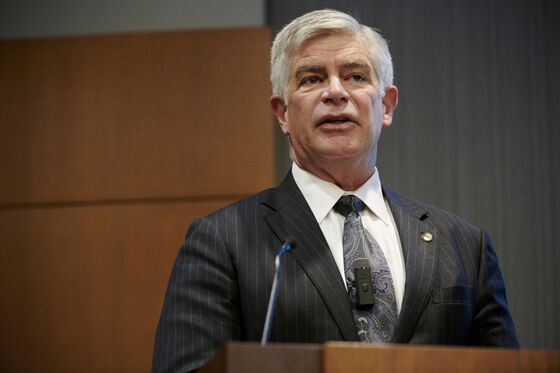 "It could cause disruption in the markets if we try to do it too soon," he said. "So, I have many degrees of caution on this, to just be steady as she goes until we start to really see the economy healing."
The Fed is currently buying $120 billion of U.S. Treasury and agency mortgage-backed securities each month to suppress longer-term interest rates as part of its efforts to support the economy during the coronavirus pandemic.
Fed Chair Jerome Powell and his colleagues on the rate-setting Federal Open Market Committee said in December they would continue the purchases at least at the current pace until the economic recovery had made "substantial further progress."
Harker, who voted on FOMC policy moves last year but won't this year, said he's optimistic that the economy "should begin to look much more normal" by the second half of the year.
"I'm expecting the fourth quarter of last year to show modest growth, before a significant slowing in the first quarter of this year -- possibly even negative growth," he said Thursday. "Growth should be strong in the second half of the year, and through 2022, before a light tapering in 2023."
Goldman Sachs Group Inc. economists raised their growth forecasts for the U.S. this year after Democrats secured control of the Senate. In a report late Wednesday, they predicted the economy would expand 6.4% this year, faster than the 5.9% they previously expected.
Richmond Fed chief Thomas Barkin, who does vote on monetary policy this year, separately said he expects the second half of 2021 to be "robust as businesses finally pull the trigger to return to the workplace and there's some amount of business travel, and consumers with elevated savings unlock pent-up demand."