Turkey Extends Rate Pause as World's Worst Currency Delays Cuts
(Bloomberg) -- Turkey's central bank extended an interest-rate pause in place since it last raised borrowing costs in September. The lira plunged after it removed a sentence in the statement that committed it to tighter monetary policy if needed.
The Monetary Policy Committee led by Governor Murat Cetinkaya kept its benchmark at 24 percent on Thursday, in line with the forecasts of all but one of the 20 economists surveyed by Bloomberg. The central bank, which has stood pat since an increase of 625 basis points in September, may not get around to lowering rates until next quarter, another poll showed.
"Lira depreciation once again shows potential to spiral, unless the central bank acts promptly and decisively," Commerzbank AG analysts including Tatha Ghose said in a report before the announcement. "As we have witnessed in the early stages of similar previous episodes, the central bank will probably stand still."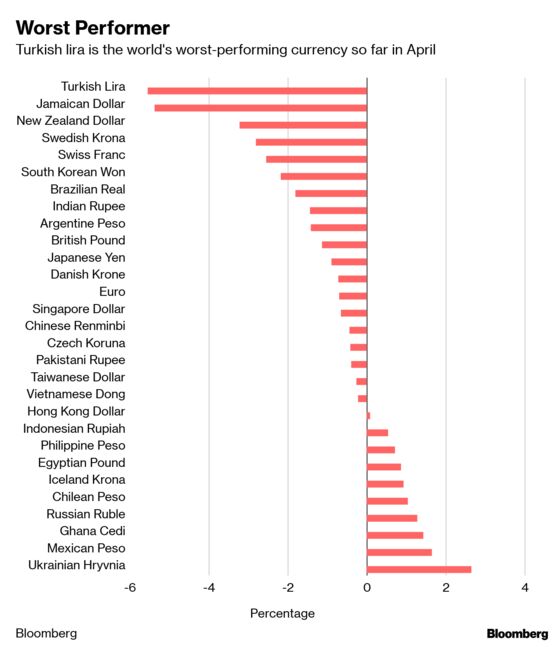 Cetinkaya has pledged to wait for a "convincing" inflation slowdown before cutting rates, but has been stymied by the weaker lira. Investors have soured on Turkey's currency as the central bank struggled to explain moves in its reserves, fueling concern about the state of the nation's finances.
The lira is down over 5 percent so far this month against the dollar in the worst performance globally.
Meanwhile, price pressures abound as inflation still hovers at nearly four times the official target of 5 percent, despite the economy entering its first recession in a decade last year.
The downturn, coupled with a runup in food prices and the highest unemployment since 2009, undermined support for President Recep Tayyip Erdogan, whose party suffered unexpected losses in Turkey's major cities in March 31 municipal elections. Tensions have been high since then as the ruling AK Party is contesting its defeat in commercial hub Istanbul, claiming widespread irregularities and demanding a new vote.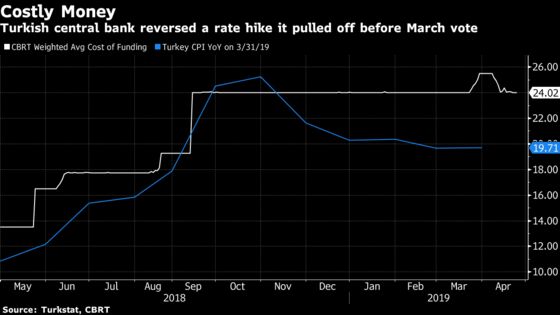 Despite swirling speculation around the health of Turkey's international reserves and a mix of risks from geopolitics to oil, the central bank restarted one-week repo auctions this month, effectively reversing a surprise monetary tightening it used to steady the lira before last month's election.
There might not be any clarity on the state of Turkish reserves until a quarterly inflation briefing on April 30, according to an official familiar with the central bank's plans.
"There's a strong case in favor of a hike rather than staying on hold, given the FX market stress since their last meeting," Inan Demir, an economist at Nomura International Plc in London, said before the rate decision. "The fact that the central bank reverted to funding the market from the 24 percent rate after a brief interval in late March to early April suggests to me that they are comfortable with the current level of the policy rate."