Hammond Promises End to Austerity - With a Brexit Caveat
(Bloomberg) -- U.K. Chancellor of the Exchequer Philip Hammond promised early tax cuts and an end to austerity despite weak growth forecasts and uncertainty over Brexit.
"We have reached a defining moment on this, long, hard journey, opening a new chapter in our country's economic history, where we can look confidently to the future," Hammond told lawmakers in his budget statement Wednesday. "Austerity is coming to an end, but discipline will remain."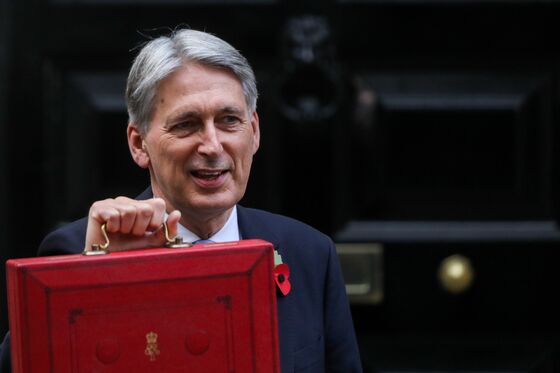 Hammond is under pressure to end almost a decade of spending cuts that have limited public services and spurred support for the opposition Labour Party and its socialist leader, Jeremy Corbyn. But he's trying to do so at a less than opportune time with Britain scheduled to leave the European Union in March, and on the eve of his speech, he said Britain may need another emergency budget and prolonged austerity in the event of a no-deal Brexit.
While the Office for Budget Responsibility upgraded its forecasts for 2019 and 2020 for this year's budget, growth is still not seen reaching its pre-Brexit vote pace through to 2023. The prediction for 2018 was cut to just 1.3 percent -- the slowest since 2009 and down from its March prediction of 1.5 percent.
Even the meager growth outlook could still be downgraded by Brexit, the OBR said in its post-budget report, which emphasized that its predictions were based on a "relatively smooth exit from the EU."
On the other hand, a disorderly Brexit "could have severe short-term implications for the economy, the exchange rate, asset prices and the public finances," Robert Chote, chairman of the OBR, said in a statement. "The scale of the impact would be very hard to predict with confidence, given the lack of precedent."
The pound fell 0.2 percent to 1.2807 per dollar as of 6:02 p.m. in London, as some traders viewed Hammond's statement as a wait-and-see budget which could change in a few months' time.
An early tax cut for 32 million people by raising the tax free personal allowance to 12,500 pounds and the higher rate threshold to 50,000 pounds next April. This is a year earlier than previously promised and will cost 2.79 billion pounds in 2019-20
An extra 500 million pounds would be earmarked for spending on contingency measures in case the U.K. crashes out of the EU with no deal
A new digital tax on online companies like Facebook. The digital services tax is expected to raise more than 400 million pounds per year
An additional 420 million pounds to tackle potholes, bridge repairs, and other minor works in this financial year
A 400 million pound one-time capital payment directly to schools, averaging 10,000 pounds per primary school and 50,000 pounds per secondary school
Plans to introduce a new tax on manufacturers to increase the use of recycled plastics
Increase duty paid by Internet gaming operators to 21 percent
Hammond said his plans could be undermined if the U.K. crashes out of the EU without a deal -- though he reiterated that on the flipside, an agreement would unleash a tide of investment that would boost consumer confidence.
"I expect that the "deal dividend" will allow us to provide further funding" for next year's spending review, he said.
He committed extra cash for central government departments to prepare for Brexit, and said he would retain the 15 billion pounds rainy day fund that he's keeping aside in the case of no deal and "retaining firepower to intervene if the economy needs more support in the coming months."
Negotiations with the European Union remain stuck on the question of how to avoid customs checks at Ireland's border with the U.K. after Brexit, while the various factions of Prime Minister Theresa May's Conservative Party are in open warfare over the type of future relationship to seek with the bloc.
Hammond is central to that dispute, with many Brexiteers considering the chancellor an enemy due to his pro-EU stance and warnings of the dire consequences of a messy divorce. Some pro-Brexit politicians are demanding higher public spending, lower taxes and lower borrowing, which they argue will be possible because Britain will be richer outside the EU.
"I am concerned at hints by the chancellor that the goodies may be taken away if we leave without a deal," John Whittingdale, a pro-Brexit Tory lawmaker, said by phone. "Of course I will vote for the budget measures, but I remain opposed to the government's current proposals which do not deliver Brexit and keep us locked in to rules set by the EU."
Showing the political pressure Hammond is under, some measures were obviously directed at the Brexiteers, including a plan to allow citizens of the U.S., Canada, New Zealand, Australia and Japan to use the e-passport gates at U.K. ports by next summer -- a boon to International Trade Secretary Liam Fox -- and a new 50-pence coin to commemorate Brexit.
He also announced an additional 1 billion pounds for cyber defense and anti-submarine warfare, marking a political win for Defense Secretary Gavin Williamson, who has been lobbying the chancellor for extra cash for months.
In a bid to assuage fears about national security after Brexit, Hammond also promised an additional 160 million pounds of funding for counter-terrorism police for 2019-20, adding that he would protect police numbers.
He also offered a short-term boost to local governments, announcing a further 650 million pounds of funding for social care and 45 million pounds for the Disabled Facilities Grant in England. Even wealthy regions like Surrey, where Hammond lives, have struggled with funding social care.
In contrast to expectations that Hammond would increase taxes for working people, he actually cut them. He brought forward plans by a year to lift the personal allowance. British people currently pay zero income tax on their first 11,850 pounds a year, and that will reach 12,500 pounds from April next year.
He raised the national living wage for workers aged 25 and over by 4.9 percent to 8.21 pounds per hour in April 2019. Rates for younger workers will also increase above inflation and average earnings.