Half of Europe's Smaller Businesses Risk Bankruptcy Within Year
(Bloomberg) -- Over half of Europe's small and medium-sized businesses say they face bankruptcy in the next year if revenues don't pick up, underscoring the breadth of damage wrought by the Covid-19 crisis.
One in five companies in Italy and France anticipate filing for insolvency within six months, according to a McKinsey & Co. survey in August of more than 2,200 SMEs in Europe's five largest economies. Such businesses are key to the region, accounting for more than two-thirds of the workforce and more than half of the economic value-added.
The pandemic has hit European firms hard, with 70% reporting lower revenues. That level was even higher in Italy and Spain, reflecting the severity of the virus and lockdown measures in those countries.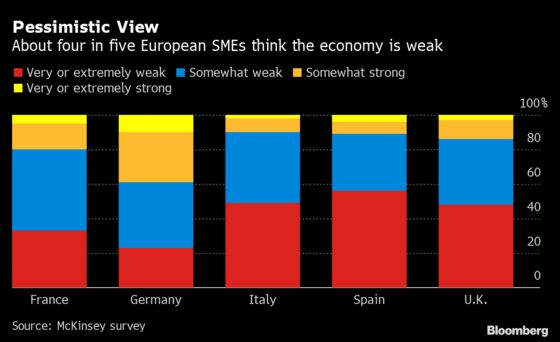 There's little optimism, with the vast majority describing the economy as weak. That's leading to worries about loan defaults and the need for layoffs. The governments of all the surveyed nations have now announced further support for jobs in efforts to limit unemployment amid a resurgence of the virus.