Poland Extends Rate Freeze as Growth Fears Trump Inflation
Jitters over an economic slowdown outweighed concern about surging inflation as Poland extended an almost half-decade lock on interest rates.
Expansion in the European Union's biggest eastern member-state undershot forecasts last year, dipping to its weakest pace since 2016. That's reinforcing the central bank's view that softer growth will rein in prices and benchmark borrowing costs needn't budge from their record low.
The bank maintained its key rate at 1.5% on Wednesday, as predicted by all analysts surveyed by Bloomberg. With the global monetary-policy tilt still toward easing, the market sees more chance of a Polish rate cut than a hike in the next 15 months, with the coronavirus adding a new reason for caution.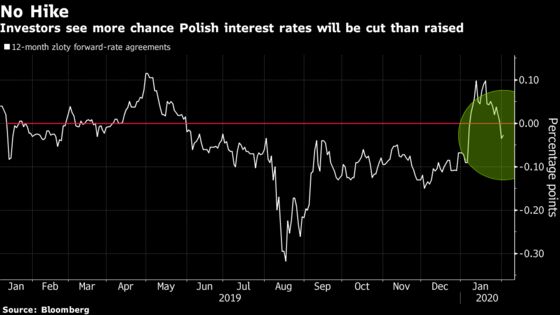 "I can reiterate that rates should stay put until the end of my term" in 2022, Governor Adam Glapinski told reporters after the announcement. "The probability of a rate cut is larger than of a rate hike."
Poland isn't the only country in the region looking past above-target inflation. The Czech Republic and Romania are grappling with similar issues, with both also expected to keep rates on hold later this week.
While Polish price growth has shot toward the 3.5% upper end of the central bank's tolerance range, Glapinski has been adamant it will return to target as the economy loses steam.
He was handed more evidence of a slowdown this week as a gauge of manufacturing declined for the first time in three months, despite a slight pickup in neighboring Germany -- Poland's biggest export market.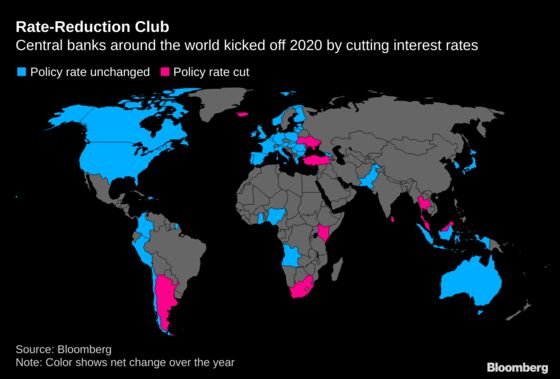 Remarks by two MPC members flanking Glapinski at Wednesday's news conference summed up the debate in Poland.
Kamil Zubelewicz struck a hawkish tone, saying the key rate should already be 2% to head off "substantial" inflation. "We wouldn't then have any risk of price growth breaching the upper limit of the tolerance band."
But fellow rate-setter Eryk Lon disagreed, saying it's worth keeping borrowing costs low to stimulate economic growth, adding even that "there's space to soften monetary policy a bit."
Analysts point to 2020 as being a year in which economic expansion will ease further but inflation will remain elevated, driven by wage growth stemming from labor shortages, rising electricity costs and higher excise levies.
"A return to improving business conditions looks some way off," said Trevor Balchin, economics director at IHS Markit, which compiles Poland's Purchasing Managers' Index.