Greece to Subsidize Mortgage Payments to Tackle Bad Loan Crisis
(Bloomberg) -- Greece plans to pump as much as 1 billion euros ($1.1 billion) into its banks over the next five years by subsidizing a part of households' mortgage repayments.
Under the plan, some households unable to repay their home loans will restructure their debts with the banks, with the state then paying part of the remaining monthly installments, according to three people familiar with plan, who asked not to be named as details still need to be finalized.
Greek banks are grappling with 88.6 billion euros of bad loans, a legacy of the country's financial crisis. Mortgages are considered the stickiest component of the banks' non-performing exposures, with lenders falling behind reduction targets set by their regulator.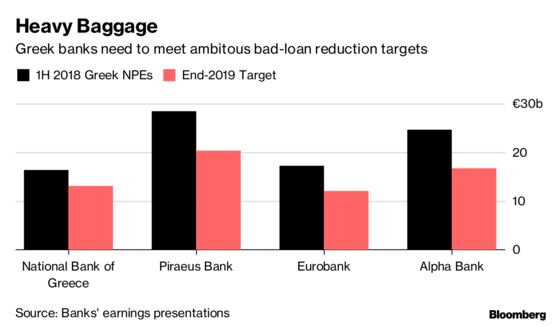 The aim is to convert a part of the banks' non-performing-loan books into performing assets, helping them repair their balance sheets. The annual cost of the subsidy is expected to rise to 200 million euros, the people said.
The new framework will support households unable to repay their mortgages who are at risk of losing their primary residence. There will be income and property conditions for eligibility, while borrowers will lose the subsidy if they miss a payment for more than 90 days, one of the people said. The subsidy is expected to amount to a third of the monthly installment on average.
The plan, which emulates Cyprus's "Estia" model, would allow Prime Minister Alexis Tsipras to present voters with a popular policy achievement at elections this year. The plan needs to be approved by the European Commission.
Almost 8 billion euros of non-performing mortgage loans, about 30 percent of the total, are currently protected under an expiring law passed in 2010 that prevents foreclosure of some primary residences, according to Bank of Greece's data. The government and banks agreed on a replacement framework for protecting primary residences in talks late Thursday, although European authorities still need to give the green light.
Greek banks have committed to reducing their NPE stock by 60 percent by the end of 2021. Other plans are also in the works, with the finance ministry expected to soon seek European approval for a plan to help banks speed up their bad-loan disposals using a model similar to the one adopted by Italy. The Bank of Greece is also working on its own plan.