Governments Urged to Help Firms Grow After Avoiding Distress
(Bloomberg) -- Governments must find ways to avoid a wave of bankruptcies on the heels of the pandemic, while simultaneously creating the foundations for a strong and resilient recovery, according to the Organization for Economic Cooperation and Development.
Policy priorities "should not only focus on measures limiting widespread financial distress and the negative effects of debt overhang in the short term," the OECD said in report Thursday. Instead, they should be coupled with greater diffusion of technology, making business environments more favorable, and supporting job transitions.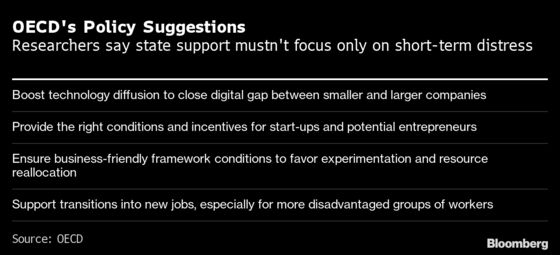 After doling out large sums of financial support to businesses affected by closures over the past year and temporarily rewriting insolvency rules, many economies across the world face the risk of a slow recovery, potentially endangering millions of jobs. Some countries in Europe, where a stubborn resurgence of the virus has led to prolonged lockdowns, have started devising debt-relief plans to help companies.
"Governments should implement a balanced strategy to phase out emergency support policies," the researchers said. "A gradual approach focusing on restoring the equity of distressed firms, encouraging timely debt restructuring and improving the efficiency of liquidation procedures should be pursued, with the aim of fostering resource reallocation."
The report puts special attention on business formation, as new firms play a key role in fostering job creation, innovation and economic growth. While entries started to improve in June after the first lockdowns were lifted, the pace has been highly mixed across countries and sectors.