Italy Bonds Fall on EU Rebuke as Goldman Warns It's Not Over Yet
(Bloomberg) -- Italy's bonds slid as the European Commission rejected the country's budget to escalate a standoff that has rattled regional markets.
The debt was also pressured by Italian Prime Minister Giuseppe Conte insisting there is no "Plan B" on a budget that calls for a higher deficit. German and U.K. bonds rose on demand for safer assets. Markets may have to increase pressure on the government to change its fiscal policy, according to Goldman Sachs Group Inc.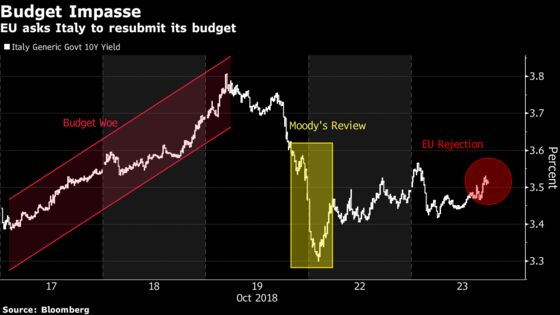 Positive sentiment from Moody's Investors Service's Friday move to keep the country's rating one notch above junk has evaporated this week. The EU rebuke is an unprecedented step in the bloc's history, and leaves Italy with three weeks to respond. Conte said in a Bloomberg News interview that Italy has some leeway to tweak aspects of the plan, but not actual spending.
"The renewed widening in spreads could have more to do with the fact that to the Italian prime minister has ruled out a "plan B"," said Sphia Salim, a rates strategist at Bank of America Merrill Lynch. "We are concerned that the correction in BTPs has further to run, before retail demand could crystallize and provide some support."
Italy's 10-year yield gained 10 basis points to 3.59 percent, with the spread to Germany climbing to 317 basis points. A spread of 400 is seen as a level that would put unsustainable pressure on the country's banking system.
Benchmark bond yields have almost doubled since the country's inconclusive elections in March, as the coalition government's budget targets a deficit climbing to 2.4 percent of gross domestic product. Italy has the highest debt ratio in the euro area after Greece.
"Our own macro and fiscal projections for Italy are more pessimistic than those of either the Italian government or Moody's," Goldman Sachs strategist Silvia Ardagna said in a note before the EU rejection. "The market situation may need to get worse before it gets better, in order to exert the pressure required to trigger a change in the course of and rhetoric surrounding fiscal policy."
Goldman has a bleak view on the bloc's third-largest economy, with particular concern over the rollback of pension reforms, which could increase public debt by 10 percentage points over a decade. It also warned that proposals to introduce a basic income for the poorest and slowing economic growth could test the government's underlying assumptions.
It forecasts rising debt may justify further downgrades. Moody's cut the rating one notch to Baa3 -- its lowest investment-grade rating -- with a "stable" outlook, while investors had feared a two-notch downgrade. S&P Global Ratings is due to review the country Friday.