Goldman Says Dollar's Reserve Position Hit by U.S. Sanction Risk
(Bloomberg) -- The drop in the dollar's share of global central-bank reserves in the latest reading was probably influenced by the Trump administration's moves against Russia, according to Goldman Sachs Group Inc.
The Central Bank of Russia probably sold about $85 billion of its $150 billion of U.S. assets during the second quarter after America imposed sanctions on Russian businessmen and government officials in April, said Zach Pandl, co-head of global FX and emerging-market strategy, in a note Monday.
President Donald Trump has emphasized the use of unilateral tariff hikes and sanctions in international diplomacy, affecting countries from China to Iran. While the second-quarter shift may end up being a blip, it does showcase risks to the degree of dominance that the greenback continues to command in global reserves stemming from sanctions, the Goldman analysis suggests.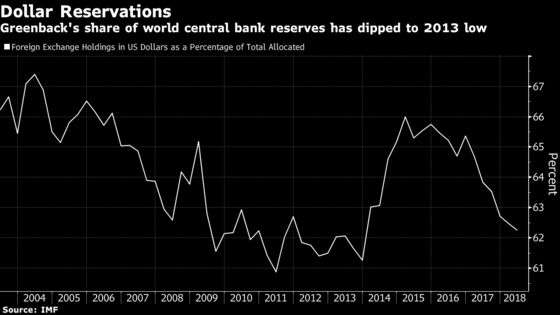 "The Central Bank of Russia likely sold a large portion of its dollar-denominated assets, and perhaps all of its U.S. Treasuries held by U.S. custodians, and transferred them to euro-denominated and yuan-denominated bonds in the second quarter," Pandl wrote. "This would account for more than half of the decline in the share of dollar reserves during the quarter."
The dollar's share of global central-bank reserves dropped to 62.3 percent in the second quarter, while holdings in the euro, yen and yuan each gained, International Monetary Fund calculations showed in September.
"Sanction risk appears to explain a significant portion of the observed decline," Pandl wrote. "The dollar's share of reserve assets could decline further if other large reserve holders were to make similar changes as the Central Bank of Russia over time."