Goldman Says Dollar's Reaction to Jobs Report Reveals Hurdles
(Bloomberg) -- The U.S. payroll jobs report on Friday was strong. The dollar's reaction to it, less so.
Goldman Sachs Group Inc. says that shows how tough it will be for the greenback to move up any more.
"The payrolls report on Friday underscored that U.S. activity data continue to be quite strong (so the bar for a Fed pause remains high)," strategists led by Zach Pandl wrote in a note Friday, "but we think the fact it only modestly reversed the dollar selloff shows this is not a sufficient condition for dollar bulls."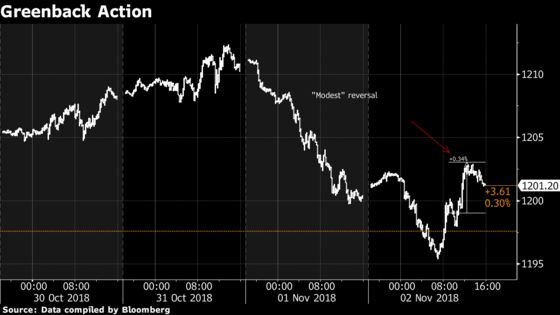 Optimistic comments from Donald Trump about the U.S.-China trade relationship supported a risk-on mood in the foreign-exchange market last week, the report said, noting that eased tensions "would be a clear catalyst for better growth expectations abroad."
"President Trump's comments come a week ahead of the U.S. midterm elections, where the signal-to-noise ratio on policy comments is even lower than normal," the strategists added.
Results keeping Republicans in control of both chambers of Congress, which at this point would be a surprise, might put tax policy back on the legislative agenda and in turn put upward pressure on rates, the report said.
"But as in 2017, this would require broader support in Congress and might make further divisive trade actions less likely, so the impact on the dollar is more ambiguous," the strategists said.