Goldman Sachs Says Mandatory Masks Could Keep U.S. Economy Going
(Bloomberg) -- Goldman Sachs Group Inc. said that nationally mandating face-mask usage in the U.S. might partially substitute for renewed lockdowns that would otherwise subtract almost 5% from gross domestic product.
Such a directive would "likely increase face-mask usage meaningfully, especially in states such as Florida and Texas, where masks remain largely voluntary," economists Jan Hatzius, Daan Struyven and analyst Isabella Rosenberg said in an emailed statement Monday.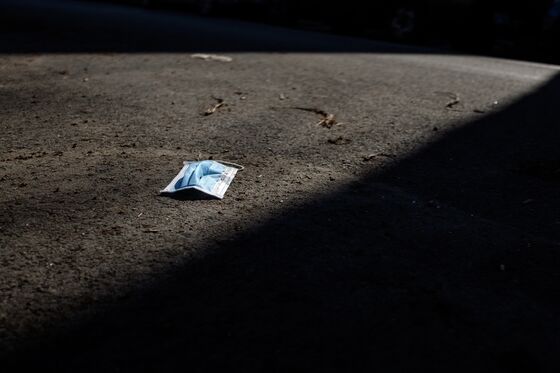 The U.S. leads the global tally of confirmed Covid-19 cases and deaths, which now exceed 126,000 across the nation. States began to ease their shutdowns after months of business closures plunged the world's biggest economy into a recession and left millions jobless. The reopenings have led to a spike in cases in states including Florida and Texas.
As the pandemic has unfolded, authorities said different things about whether healthy people should wear face masks to reduce the spread of the disease. While the World Health Organization initially didn't recommend usage of non-medical face coverings, it changed its stance on June 5. The U.S. Centers for Disease Control and Prevention also encouraged usage in public in guidelines issued April 24.
The Goldman analysis found that a national mandate could increase the number of people wearing masks by 15 percentage points, and cut the daily growth rate of confirmed cases by 1 percentage point to 0.6%.
The economists related face-mask usage to infection growth rates and fatalities at a regional and country level. They also compared cumulative infections and deaths to the lag between the onset of the virus's spread and the introduction of face-mask directives. In each of their models, wearing masks was associated with better Covid-19 outcomes. They also proposed that strict bans on large gatherings could help to reduce infections.
Some Republican governors who originally opposed mandates have changed course in states where cases are spiking, with Arizona Governor Doug Ducey recently giving local governments the power to require masks.