Goldman Now Sees Fed Cutting Rate Back to Record Low
(Bloomberg) -- Goldman Sachs Group Inc. economists said they now expect the Federal Reserve to slash interest rates back to the record low of 2015 as the U.S. economy stagnates because of the coronavirus.
The Fed will cut its benchmark rate by 50 basis points when policy makers gather on March 17-18 and again at their April 28-29 meeting, Jan Hatzius, Goldman Sachs's chief economist, said in a report to clients on Monday.
Such cuts would repeat the reduction carried out last week by the Fed in its first emergency rate cut since 2008 and would ultimately push the key U.S. rate to the range of 0% to 0.25% last seen in 2015.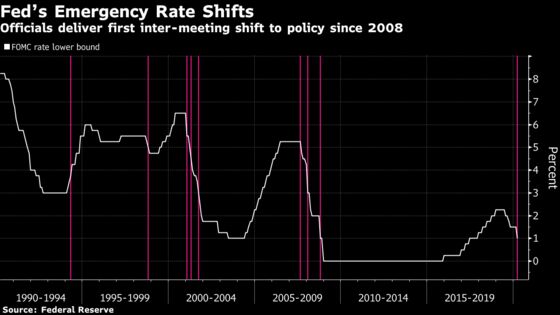 As recently as late-February, Goldman Sachs was predicting the Fed would leave interest rates on hold this year. Prior to Monday's forecast, it was expecting the central bank to cut by 25 basis points in both March and April.Goldman Sachs said it also expected the European Central Bank to cut its rate by 10 basis points and resume quantitative easing, the Bank of England to lower its main rate by 50 basis points and the Bank of Canada to deliver another 75 basis points.