Goldman Economists Now See Global Contraction, Fed Cuts
(Bloomberg) -- Goldman Sachs Group Inc. economists said they now expect the coronavirus to inflict a "short-lived global contraction" on the world economy that forces the U.S. Federal Reserve to slash interest rates in the first half of this year.
In a report released on Friday, the Goldman economists led by Jan Hatzius said the outbreak of the deadly virus meant they now predict global gross domestic product to shrink on a quarterly basis in the first two quarters of this year before rebounding in the second half.
"All else equal, this would imply a short-lived global contraction that stops short of an outright recession," the economists wrote.
In this scenario, they said the Fed's policy-setting Open Market Committee would cut its key interest rate by 25 basis points in March and ultimately by 75 basis points through June. Economists at Barclays later said they too expect the Fed to ease monetary policy by reducing rates 25 basis points in March and again in April given "the deterioration in financial market conditions."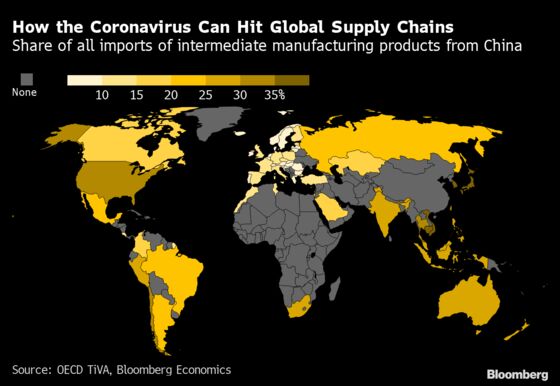 "Although moderate Fed rate cuts are unlikely to be very powerful, the committee will probably be reluctant to disappoint market expectations for substantial rate cuts for fear of tightening financial conditions further," the economists said.
With the impact of the virus outbreak rippling from China to Europe and the Americas, Goldman is just the latest bank to turn more pessimistic over the outlook for the world economy. On Thursday, economists at Bank of America Corp. said they anticipate global growth will be the weakest this year since 2009.
In a downside scenario, the Goldman economists said widespread supply chain disruptions and a weakening of domestic demand could mean a more aggressive downturn. On the flip-side, a more positive scenario would see global GDP recovering in the second quarter.
In the worst case, the Fed would cut its benchmark rate to nearly zero and the European Central Bank would reduce its key rate further into negative territory.