Goldman Raises U.S. Forecast After Democrats Win Senate
(Bloomberg) -- Goldman Sachs Group Inc. economists raised their growth forecasts for the U.S. this year after Democrats secured control of the Senate.
In a report to clients late Wednesday, the economists led by Jan Hatzius predicted the economy would expand 6.4% this year, faster than the 5.9% they previously expected.
The upgrade was driven by the anticipation President Joe Biden will now be able to deliver a fiscal stimulus package of $750 billion this quarter, $300 billion of which will be in the form of checks to households. The economists cautioned the slow pace of coronavirus vaccinations may still slow the spending boost.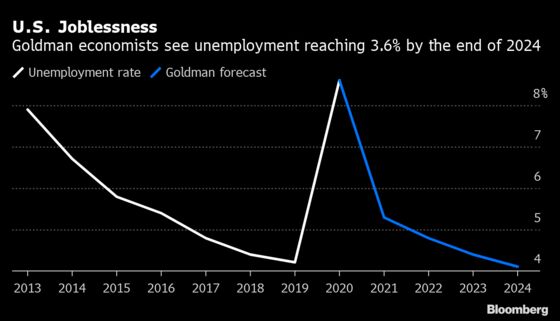 The revision means the Goldman economists now reckon unemployment will reach 4.8% by the end of this year and 3.6% by the end of 2024. They said faster inflation will also allow the Federal Reserve to hike interest rates in the second half of 2024, earlier than the previous forecast of early 2025.