Goldman Strategists Like 4-to-1 Odds on BOE Interest-Rate Cut
(Bloomberg) -- A Bank of England interest-rate cut next month looks like an attractive outside bet to strategists at Goldman Sachs Group Inc.
With a third national lockdown in the U.K. threatening to drag the economy into a double-dip recession, expectations are rising that the BOE will ease policy at its Feb. 4 meeting.
Most expect the support to come via faster or increased bond buying. Some see value in positioning for a reduction in the benchmark rate, which currently stands at 0.1%.
With less than two basis points of rate cuts priced into the overnight index swaps market for next month, Goldman analysts like the 4-to-1 payoff on a surprise move.
"The possibility of a 10-basis-points rate cut taking the bank rate to zero suggests positive risk-reward" in betting on lower OIS rates at the February meeting, strategists including George Cole wrote in a client note.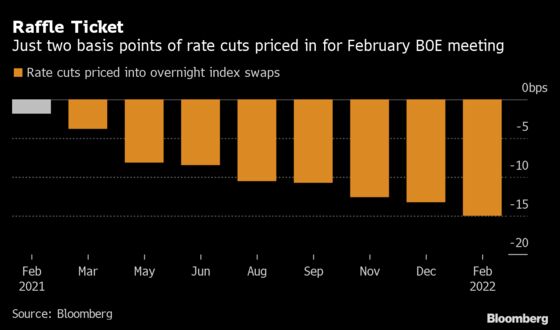 A cut next month isn't their base case: Goldman forecasts more incentives for banks to lend under the Term Funding Scheme and a faster pace of bond purchases. Even so, the U.K. yield curve is likely to steepen and front-end rates to remain supported, since the central bank is due to release further research on the possibility of a sub-zero benchmark, Cole wrote.
BOE policy maker Silvana Tenreyro is giving a speech on Monday titled "Let's Talk About Negative Interest Rates." In September, she said other countries' experience of the policy was "encouraging."
Some banks expect a cut below zero to come as soon as next month, with strategists at RBC Europe Ltd. betting on a 15-basis-point rate cut in February.
"Although increased fiscal support has weakened the case for a quick rate cut, the U.K. has still been one of the countries worst affected by the pandemic, and combined with the negative effects of Brexit, it means we continue to expect that the bank will ultimately be forced to take rates negative," analysts including Peter Schaffrik said in a note Monday, reiterating a long-held view.