Wall Street Banks Slash Yield Forecasts on Gloomy Growth Views
(Bloomberg) -- Goldman Sachs Group Inc. joined a growing number of Wall Street banks lowering their forecasts for Treasury yields in the face of slowing global economic growth and faltering bets on tighter monetary policy.
The U.S. bank said 10-year yields may have peaked for this cycle, cutting its year-end projection by 50 basis points to 3 percent. JPMorgan Chase & Co. and Bank of America Merrill Lynch also trimmed their forecasts this week on expectations of fewer Federal Reserve interest-rate increases, while the bonds have regained haven status for BlackRock Inc. following last year's slump that drove yields to a seven-year high.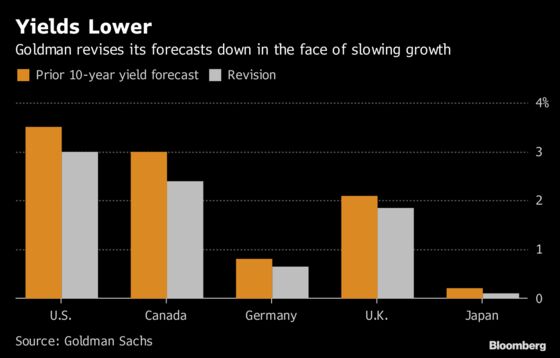 Treasuries and European bonds have rallied in recent weeks as investors grow more concerned about the prospects of a global economic slowdown, with a plunge in German industrial-production data Tuesday the latest to spur fears of a recession. Still, Goldman isn't expecting the U.S. yield curve to invert fully, widely seen in the market as a barometer of an impending recession.
"We now believe 10-year yields may have peaked for this cycle," wrote Goldman strategists led by Praveen Korapaty in a note to clients. "Material weakness in growth data, combined with poor risk sentiment and tighter financial conditions have led markets to reconsider the extent of monetary policy normalization possible globally."
Goldman's forecast still sees 10-year yields rising again from their current 2.70 percent, but below the 3.25 percent reached in October. For BlackRock, yields are unlikely to return to those levels as investors are now buying bonds again when stocks decline, according to Rick Rieder, its global chief investment officer of fixed income.
Investors have been rattled by turbulence in U.S. stocks and money markets no longer expect the Federal Reserve or the European Central Bank to raise rates at all this year. JPMorgan and Bank of America still see two Fed interest-rate hikes, and have reduced their 10-year yield forecasts to 3.20 percent and 3.00 percent respectively.
The yield differential between U.S. and German bonds, which touched a record high last year as the Fed raised borrowing costs, will cease to grow, according to Goldman.
Bund Rally Gone Too Far Means It's Time to Bet on Higher Yields
Goldman's call on German bund yields has been lowered 15 basis points to 0.65 percent. For some banks, the rally in haven assets has already gone too far this year, with Credit Agricole SA and Commerzbank AG now recommending shorting bunds, after yields fell to the lowest level in more than two years last week at 0.15 percent.
The outlook for global yields was cut across the board by Goldman. Forecasts for Canadian yields were reduced the most, down 60 basis points to 2.40 percent. It also revised down its 10-year U.K. yield forecast by 25 basis points to 1.85 percent, and lowered Japan's by 12 basis points to 0.1 percent.