Goldman, JPMorgan Stick With Forecasts of Four Fed Hikes in 2019
(Bloomberg) -- Goldman Sachs Group Inc. and JPMorgan Chase & Co. are sticking by their forecasts that the Federal Reserve will raise interest rates four times next year, while acknowledging that the risks to their outlook mounted this week.
Days after investors interpreted a speech by Fed Chairman Jerome Powell as signaling the potential for a 2019 pause in rate hikes, the economists acknowledged a shift in tone while noting robust growth, steady inflation and falling unemployment should keep the central bank tightening monetary policy through next year. An increase this month is all but guaranteed.
"Recent events have increased the downside risks to our baseline forecast,'' Goldman Sachs economists led by Jan Hatzius said in a report.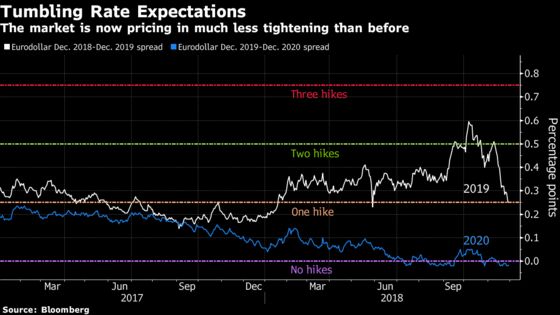 The Goldman Sachs team said markets "overstated" the shift by Powell in part because the Fed's outlook for growth and preference for gradual rate hikes remains "essentially intact." The economy continues to grow faster than its long-term trend and unemployment is on track to fall below 3.5 percent, which will "keep the Fed on a continued hiking path," they said.
They nevertheless joined counterparts at Morgan Stanley in saying Fed officials may this month reduce the number of rate increases they expect in 2019 to two from the three penciled in when they met in September.
At JPMorgan, economists led by Bruce Kasman also argued Powell's comment of Wednesday that the Fed's benchmark is now "just below" estimates of the rate which neither stokes nor slows the economy is still in line with past Fed commentary. Still, the central bank is increasingly feeling its way as new data become available, they said.
"We see the Fed continuing in its current pace of quarterly policy adjustments,'' the JPMorgan economists wrote. "But we recognize that a 'data dependent' Fed will make decisions based on the interaction of economic outruns and its perception of risk.''
Next week will see a fresh test of the Fed forecasters with Friday's release of the latest U.S. employment report. The median estimate of economists is for non-farm payrolls to have risen 199,000 in November and for unemployment to have stuck at 3.7 percent. Powell speaks before a congressional committee on Wednesday.
Bloomberg Economics Week Ahead: Payrolls to keep pace, Powell to refine message