Goldman Finds Vulnerabilities in One-Third of the Emerging-Market Credit World
(Bloomberg) -- Emerging-market credit investors may want to be especially cautious with the likes of Brazil and Bahrain.
Those are among the countries that have the highest risks in a screening by Goldman Sachs Group Inc. Lebanon and Bahrain have the worst external and fiscal risks, while Mongolia has high external vulnerabilities. Egypt and Brazil trigger caution on fiscal trajectories, analyst Sara Grut wrote in a note Tuesday.
"Many of the countries which have high external vulnerabilities also have weaker fiscal trajectories," Grut wrote. "Countries with a weaker fiscal backdrop have lower ratings, and make up a third of the EM credit universe." She added that many of those are currently in programs with the International Monetary Fund, which mitigates the risk to an extent.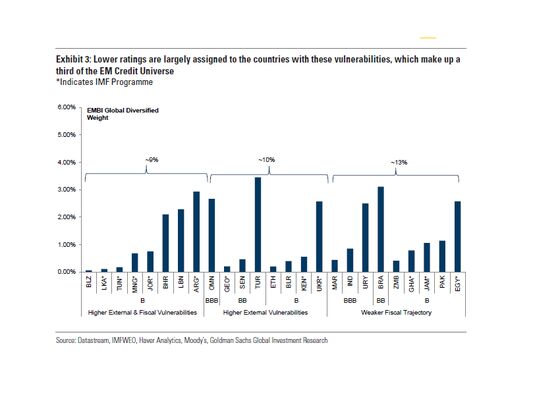 Countries with such vulnerabilities also have the highest share of U.S. dollar bonds maturing during the next three years, which could bode poorly for the asset class given the global economic backdrop.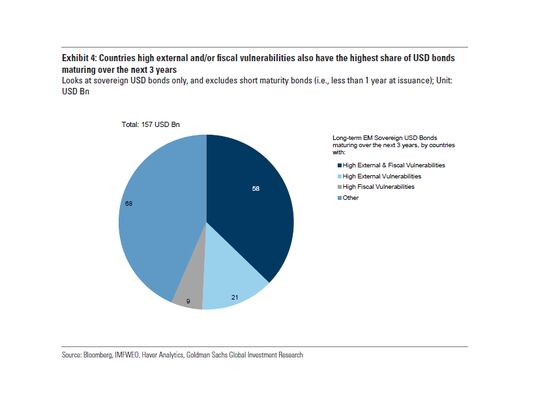 "The majority of USD debt (~$89 billion) coming due are from countries where external and/or fiscal vulnerabilities are high, which increases the risk for high-yield EM credit investors in a rising interest rate, but slowing global growth environment," Grut said.