Goldman and Citi See Risks for Hong Kong Banks
(Bloomberg) -- Hong Kong's banks are staring at a tough year for business, marred by lower demand for loans and a peak in local property prices.
Goldman Sachs Group Inc. cut the lenders' loan-growth estimates and target prices on Tuesday. Citigroup Inc. said the banks' shares may drop as much as 15 percent in 2019.
"A cyclical slowdown in loan growth has been happening recently as rates started to rise and macro slowed this year," Goldman analysts Gurpreet Singh Sahi and Ethan Liu said in the note. "Whether this slowdown follows the recent historical one-to-two years 'shallow' pattern or becomes longer and deeper would depend on how the current 'financial' cycle in Hong Kong unfolds."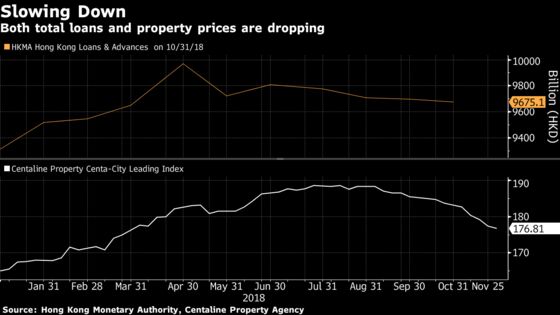 Hong Kong's banks grew their balance sheets when money sloshed around in the aftermath of the global financial crisis, which boosted their revenue and profit. Now global authorities are withdrawing stimulus and concern about leverage in China is pushing policy makers to reduce risk in the financial system, hurting demand for loans.
Hong Kong's monetary base more than doubled since the end of 2009, boosting the Hang Seng Index by roughly the same magnitude from trough to peak and almost tripling property prices, Citigroup analysts including Yafei Tian wrote in a Dec. 5 note to clients. The recent weakening in credit demand as well as a more-dovish-than-expected U.S. Federal Reserve may raise costs and dampen interest margins for Hong Kong banks, they said.
Citigroup predicts the lenders will underperform the main equity index in 2019, though it has a buy rating on BOC Hong Kong (Holdings) Ltd. and hold on Hang Seng Bank Ltd., which it said may rise more than peers in case of a market rally. Goldman cut the sector's loan-growth estimates by 3 percentage points and average target price by 8 percent. It, too, has a buy rating on bigger local banks.