Goldman Backs Pound Rally and Higher Bond Yields on Brexit Deal
(Bloomberg) -- Goldman Sachs Group Inc. is expecting both the pound and gilt yields to climb under its base case that a Brexit deal will eventually pass through Parliament.
The U.S. bank expects Prime Minister Theresa May's Brexit divorce bill to be rejected by lawmakers on Dec. 11, leading the pound to drop by 1 percent to 2 percent. But it then expects a deal to likely pass in early January, causing sterling to climb around 5 percent to $1.34 and the U.K. gilt yield curve to move 25 basis points higher from current levels.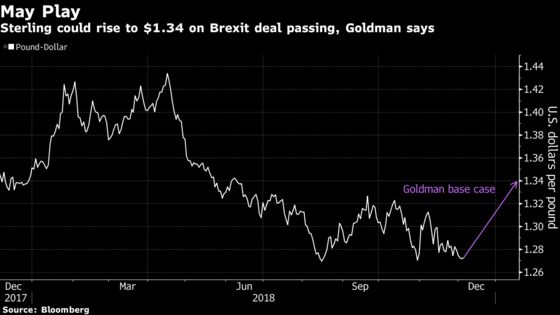 "We expect the first vote to fail, but ultimately expect the current Brexit deal, or some variant, to pass through the U.K. Parliament, sending both GBP and GBP yields higher," wrote strategist George Cole. "The probability of a 'no-deal' Brexit is relatively low, but that political risk to the government is the main source of volatility and downside for GBP in the wake of a potential failed vote."
Goldman assigns a probability of around 10 percent to the possibility of a no deal, citing widespread opposition to such a scenario in the House of Commons. Even if the chances of failure to get an agreement increase, sterling is still unlikely to break the 90 pence level versus the euro because "corrective political intervention" would also grow, the bank added.