Gold Slips From Four-Month High as Fed Minutes Fuel Taper Worry
(Bloomberg) -- Gold slipped from a four-month high as investors digested news that there was a group of Federal Reserve officials open to talking about tapering bond purchases.
Treasury yields and the dollar rose after minutes of the Fed's last meeting were released. The report showed a number of participants suggested that if the economy continued to make rapid progress toward the Committee's goals, it might be appropriate at some point in upcoming meetings to begin discussing a plan for adjusting the pace of asset purchases.
Gold has been buoyed by falling real bond yields and a weakening dollar, with inflation expectations in the U.S. rising. That's revived investor interest in the precious metal, with holdings in bullion-backed exchange-traded funds rebounding. At their April meeting, Fed officials held interest rates near zero and said they were not yet ready to consider scaling back pandemic support for the economy.
"The Fed minutes were talking about they might slow down asset purchases," which triggered some profit-taking in gold, said Peter Thomas, senior vice president at Zaner Group. "Gold's had a really strong run. A little step-back, a little profit-taking, it does make sense."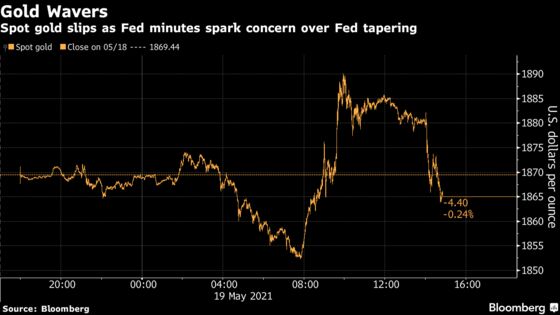 Spot gold fell 0.2% to $1,865.63 an ounce at 2:54 p.m. in New York after rising earlier to $1,890.13, the highest since Jan. 8 before slipping to $1,874.36 . Futures for June delivery rose 0.7% to settle at $1,881.50. Spot silver, platinum and palladium fell. The Bloomberg Dollar Spot Index rose 0.4%.
Gold's "technical picture is strong after a correction from overbought conditions, and the market will have noticed that we've now had eight days' consecutive gains in the ETFs, which can help to sway sentiment," said Rhona O'Connell, an analyst at StoneX Group. Geopolitical risk, notably in the Middle East, also helps sentiment toward gold as a haven, she said.