Gold Rises With Soft Dollar, Declining Yields After U.S. Data
(Bloomberg) -- Gold rose to the highest since late February, putting the metal on course for a second straight weekly gain on help from declines in the dollar and bond yields.
A gauge of the dollar fell as much as 0.2%, and 10-year Treasury yields slumped to lowest in a month. The declines came after U.S. retail sales accelerated in March by the most in 10 months as business reopenings, increased hiring and a fresh round of stimulus checks emboldened shoppers, while U.S. March industrial production rose less than expected.
"Gold finally trades above recent highs behind a cocktail of lower yields, a soft dollar and a weaker-than-expected industrial production and capacity-utilization report," said Tai Wong, head of metals derivatives trading at BMO Capital Markets. The production report "indicates the real economy remains uncertain, while the strong retail sales report was purely stimulus-based and transitory."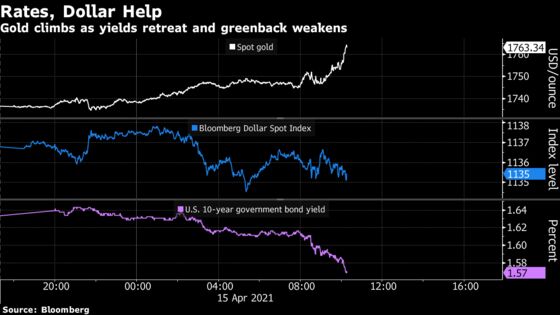 Bullion has been confined to a narrow trading range this month, with shifts largely driven by movements in the dollar and bond yields. The precious metal has declined more than 7% this year as gold-backed exchange-traded funds witnessed sustained outflows, after playing a crucial role in 2020's record rally. Net sales continued yesterday.
"Gold is unable to make any further significant and sustainable gains due to a lack of support from financial investors," Daniel Briesemann, an analyst at Commerzbank AG, wrote in a note. "There is still no sign of any trend reversal in gold ETFs."
Spot gold rose as much as 1.9% to $1,769.67 an ounce, the highest since Feb. 26. Futures for June delivery on the Comex rose 1.8% to settle at $1,766.80 an ounce. Spot silver, platinum and palladium also advanced. The Bloomberg Dollar Spot Index declined 0.1%.
Bullion rose above its 50-day moving average, but "a decisive move above $1,760 is still required to open a path to $1,800," said BMO's Wong.