Gold Drops With ECB Moves Amid Signs Pandemic May Be Easing
(Bloomberg) -- Gold futures fell for a fifth straight session after European Central Bank moves to stem the impact of coronavirus weren't as aggressive as some traders had anticipated. The metal still posted its best month since August.
The ECB didn't announce an increase to its pandemic emergency purchase program, disappointing some bond investors even as central bank head Christine Lagarde said the institution was ready to do whatever was needed for as long as needed. Bullion extended declines after U.K. Prime Minister Boris Johnson said the country has passed the peak of the virus outbreak, crimping demand for the metal as a haven.
"The market was somewhat disappointed by today's ECB policy signals, which weren't aggressive enough when measured against further signs of economic deterioration," Bart Melek, a TD Securities analyst, said in an emailed message.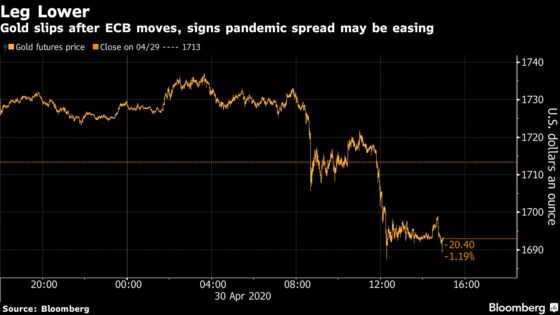 Gold futures for June delivery fell 1.1% to settle at $1,694.20 an ounce at 1:30 p.m. on the Comex in New York, after rising as much as 1.4%. The metal rose 6.1% in April.
Bullion has risen this month as many economies pumped in stimulus to repair the damage from the coronavirus pandemic, boosting the metal's allure as a store of value. Overall sentiment for gold is still high as investors seek havens amid the economic downturn and as monetary and fiscal stimulus increase, according to State Street Global Advisors.
U.S. data Thursday showed personal spending fell in March by the most on record as shutdowns and job losses wreaked havoc on the economy. A separate report showed the nation's jobless-claims figures were larger than expected, sending the six-week total above 30 million. The data sent U.S. stocks falling from a seven-week high.
On Wednesday, Federal Reserve Chairman Jerome Powell said the coronavirus crisis could leave permanent scars on the U.S. economy. The central bank said in a statement it "will use its tools and act as appropriate to support the economy."
Gold will trade between $1,700 and $1,800 an ounce for the next few weeks, with a skew to the higher end of that range, Robin Tsui, Asia-Pacific gold strategist, said in an interview. "The low interest-rate factor is going to drive gold prices forward."
In other precious metals, silver futures fell on the Comex, while platinum and palladium rose on the New York Mercantile Exchange. Platinum posted the largest monthly gain in almost four years, while palladium saw the biggest monthly loss since 2015.
Read more:
China Gold Demand Seen Picking Up as Economy Recovers: WGC