Gold Gets Mugged by Almighty Dollar as Investors Await Tariffs
(Bloomberg) -- Gold's drowning. The precious metal is heading for the lowest close in a year as impending trade tariffs between the U.S. and China, coupled with higher rates from the Federal Reserve, spur demand for the dollar.
"Prices remain underwater, with the strong dollar anchoring it down," said Jingyi Pan, market strategist at IG Asia Pte. "The oscillating sentiment over the U.S.-China trade scuffle continues to see further dollar strength, with further upside not ruled out as the July 6 tariffs implementation date looms."
Bullion for immediate delivery fell as much as 0.3 percent to $1,237.98 an ounce, the lowest level since Dec. 12, and traded at $1,240.49 at 2:16 p.m. in Singapore. A close at that price would be the lowest since July 2017.
Gold's on a miserable run, posting a third monthly drop in June, as escalating trade tensions fanned demand for the U.S. currency. President Donald Trump is moving ahead with duties on $34 billion in Chinese goods that'll take effect Friday, with the threat of billions more in levies if China retaliates. Investors are also watching out this week for minutes from the Fed's June meeting, when policy makers raised borrowing costs for a second time this year.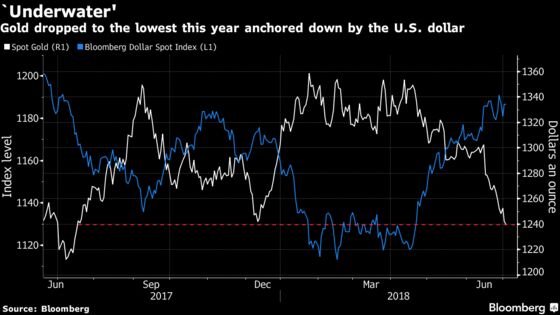 "We have a much stronger view around the U.S. dollar, in thinking that the current strength in the U.S. economy, and what we're seeing in terms of higher rates coming through," Justin Smirk, an analyst at Westpac Banking Corp. told Bloomberg TV in an interview. "So we can't get excited about gold."
In other precious metals:
Silver lost 0.2 percent to $15.8197 an ounce, after hitting $15.7729 on Monday, the lowest level since Dec. 13.
Palladium fell 0.5 percent to $943.30 an ounce.
Platinum dropped 0.7 percent to $812.46 an ounce, after a slumping to $808.75 on Monday, the lowest since December 2008

NOTE: The sell-off in the metal, used mostly in devices that reduce harmful emissions from diesel vehicles, has accelerated amid concerns that industrial demand could be curbed as trade tensions escalate, and on word that Trump is considering tariffs of as much as 25 percent on imported cars and parts.