Gold Gains for Third Day on Weaker Dollar, U.S. Stimulus View
(Bloomberg) -- Gold climbed to a one-week high as the dollar and real U.S. Treasury yields declined, with investors weighing prospects for a fast-tracked stimulus package in the U.S.
The metal climbed for the third straight day, the longest rally since Jan. 5, after Democrats released the first draft of key legislation that will comprise President Joe Biden's Covid-19 relief bill. Bets on a robust package of support are helping to underpin market-derived inflation expectations, which are at multiyear highs, and have fanned the so-called reflation trade. Gold pared some gains as the price approached a key resistance level.
"It seems there's some liquidation by traders as gold approached the 200-day moving average level," Bart Melek, head of commodity strategy at TD Securities.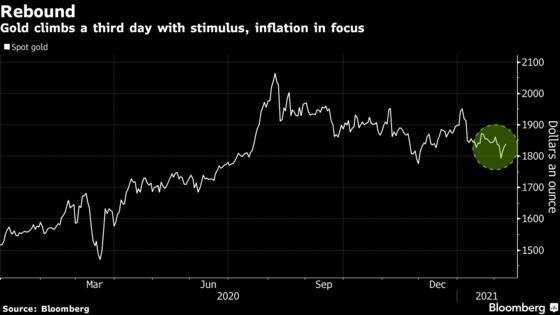 Spot gold advanced 0.3% to $1,836.49 an ounce at 2:51 p.m. New York time after reaching $1,848.60, the highest since Feb. 2. Futures for April delivery rose 0.2% to settle at $1,837.50 an ounce.
Platinum jumped as much as 2.8% to $1,194.13 an ounce, the highest since August 2016, amid an expected deficit this year.
Silver fluctuated, and palladium dropped. The Bloomberg Dollar Spot Index eased 0.5%.
"Rising breakevens and today's dollar weakness will attract renewed interest back into gold and also silver, given the pull from rising copper and platinum prices," said Ole Hansen, head of commodity strategy at Saxo Bank A/S. "Speculators are carrying a light load in both gold and silver, but for now we need to see the yellow metal break the double top around $1,875 in order to attract renewed momentum."
The frenzied rally in Bitcoin paused on Tuesday after prices hit a new all-time high of $48,000. Tesla Inc. said Monday it bought $1.5 billion of the cryptocurrency and its revised policies also permit gold investment.