Platinum Surges to Six-Year High on Industrial Bounceback Bets
(Bloomberg) -- Platinum rallied to a six-year high on bets that a recovery in industrial demand and stricter emissions rules will tighten supply of the metal used to curb pollution from cars and trucks.
The commodity has been trading at a big discount to sister-metal palladium, which is also used primarily in catalytic converters. The price disparity between the two, as well as tougher regulations on emissions, has raised expectations that platinum will see greater use.
Platinum has outperformed many of its peers this year after spending most of 2020 lagging behind. The metal's price outlook was improved significantly by disruption at a key South African refinery, which likely will keep the market in deficit this year, according to the World Platinum Investment Council. Strong investment demand from those expecting a catch-up to gold and palladium also has been supportive.
"Optimism on the outlook for industrial and car demand, more stringent emission regulations and, in the last couple of days, some weakness in the dollar" have driven platinum higher, said Georgette Boele, senior precious metals strategist at ABN Amro Bank NV. "Longer-term there is much more potential" for the price to rise, she said.
Autocatalyst maker Johnson Matthey said Wednesday that it expects platinum's share of demand to increase after a 15-year decline. The gain will mostly be driven by higher demand from heavy-duty Chinese vehicles, though a recovery in car production generally will boost demand for all platinum-group metals, it said.
"Oil is going up and commodities in general are going up," Johan Theron, spokesman for Impala Platinum Holdings Ltd. "On a relative basis platinum is low on a historical level. So it's definitely receiving a lot of investor attention and not necessarily that anything fundamentally has changed in the short-term outlook."
Platinum for immediate delivery gained as much as 6% to $1,252.84 an ounce, the highest since Feb. 6, 2015. Prices were up 5% at $1,240.77 an ounce at 1:56 p.m. in New York. Futures for April delivery on the New York Mercantile Exchange rose 4.4% to settle at $1,246.90 an ounce.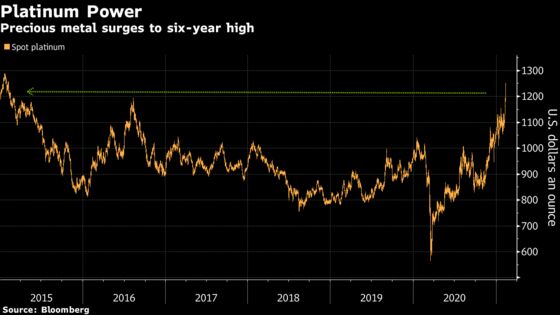 Gold advanced for a fourth day, extending gains after data showed a key measure of prices paid by U.S. consumers was unchanged for a second straight month. The median estimate in a Bloomberg survey of economists for month-over-month core CPI was for a 0.2% gain. Treasury yields and the dollar fell after the report, which suggested there's room for fiscal stimulus without fear of a more durable increase in price pressures.
"With the slight miss in CPI, the market is interpreting more stimulus to come as we're not close to the Fed's inflation target," said Bob Haberkorn, senior market strategist at RJO Futures. "That's helping gold."
Investors will be focused on the U.S. stimulus package as President Joe Biden shrugged off warnings that the economy may overheat as a result of boosted spending. Still, Biden backed a proposal for quicker phase-outs of planned $1,400 stimulus checks, reducing the overall handout. Federal Reserve Chair Jerome Powell will speak later Wednesday in an event hosted by the Economic Club of New York.
Spot gold rose 0.3% to $1,843.33 an ounce. Palladium advanced 1.2% and silver was down 0.7%. The Bloomberg Dollar Spot Index slipped 0.1%.
Related news and coverage:
Platinum Hits Highest Since 2015 as Rally Gathers Steam: Chart