Gold Erases Gains as U.S. Data Refuels Recovery Optimism
(Bloomberg) -- Gold fell amid rising bond yields after strong U.S. economic data refueled optimism of a global recovery.
New-home sales in the U.S. rebounded sharply in March to the highest since 2006, suggesting that the housing market is back on track after winter storms impeded demand in February. Meanwhile, output at manufacturers and service providers reached a record high in April. The yield on benchmark 10-year Treasuries is heading for the first gain in four days, making the non-interest bearing metal less attractive.
Bullion also shrugged off news that President Joe Biden would propose almost doubling the capital gains tax for wealthy individuals, which hammered U.S. stocks on Thursday.
Biden's tax plan isn't triggering investors to move money to gold "because the Venn diagram of people who actively trade stocks and trade gold only has modest overlap," said Tai Wong, head of metals derivatives trading at BMO Capital Markets. "If anything, you'd park it in fixed income because the tax hike should slow investment and the economy."
After a record-breaking rally last year, gold has lost momentum amid optimism of economies reopening and vaccine rollouts, with the advancing dollar and rising bond yields denting demand for bullion.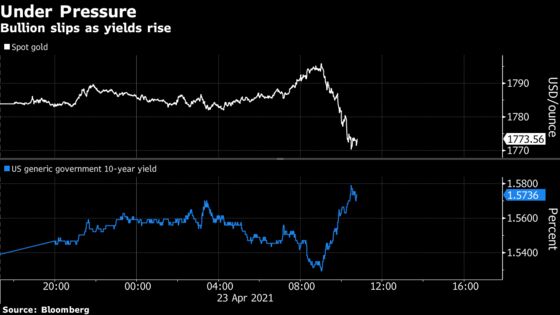 Spot gold fell as much as 0.8% to $1,770.04 an ounce after earlier advancing as much as 0.7%. Futures for June delivery on the Comex fell 0.2% to settle at $1,777.80 an ounce. The Bloomberg Dollar Spot Index fell 0.4%.
Renewed buying by top consumers China and India after a year on the sidelines is unlikely to send prices higher in the long term, for which gold relies on investment demand. Outflows from exchange-traded funds -- which were crucial to bullion's rally to a record price in August -- have slowed but not stopped in recent weeks, while net-bullish bets on the metal by hedge funds on the Comex remain low.
In other precious metals, spot silver fell and platinum advanced. Palladium added as much as 3.1% to a fresh record of $2,930.42 an ounce, before paring gains.