Gold Bulls Take Heart From the Fed's Resolve as Dollar Buckles
(Bloomberg) -- Gold rose to a one-month high after the Federal Reserve reiterated its commitment to supporting the economy and optimism grew that a virus-relief package will soon be delivered by U.S. lawmakers.
The Fed promised at its final policy meeting of 2020 to maintain its massive asset-purchase program until it sees "substantial further progress" in employment and inflation. Chair Jerome Powell said that the case for fiscal stimulus is "very, very strong." Congressional leaders are working through the final sticking points of a coronavirus relief deal, although the agreement probably won't come together in time for both chambers to vote before Friday.
"This move right now is all predicated on stimulus and Powell's comments yesterday: it feels like gold's back in favor," said Bob Haberkorn, senior market strategist at RJO Futures. "This time of the year, gold usually starts to move higher and it'll go up until early February. You throw in a seasonal trade there, coupled with stimulus that's coming and the Fed that's been pretty supportive -- it's kind of turned into a perfect storm for gold bulls."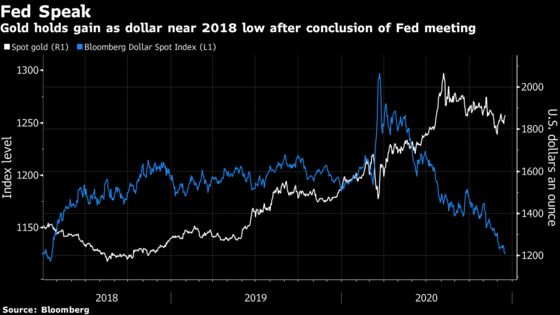 Bullion is set to finish 2020 with the biggest annual gain in a decade as concern over the economic impact of the coronavirus underpins demand for the metal as a haven. The Fed's Powell said the the ongoing surge in new Covid-19 cases is "particularly concerning," and made clear that the central bank would be in no hurry to pull back on the massive stimulus it is providing to the economy as growth picks up.
"Listening to the Fed's view, it is pretty much clear now that gold prices are likely to continue to move higher as the Fed is in no rush at all to do anything anytime soon," Naeem Aslam, chief market analyst at Ava Trade, said in a note. "So for now, the path of the least resistance in terms of the gold price is skewed to the upside."
Spot gold rose 1.1% to $1,885.90 an ounce at 2:20 p.m. in New York after touching $1,896.26, the highest since Nov. 16. The precious metal has climbed 24% this year and hit a record above $2,075 in August. Futures for February delivery rose 1.7% to settle at $1,890.40 an ounce. Silver, platinum and palladium also advanced.
The Bloomberg Dollar Spot Index fell as much as 0.5% to the lowest since April 2018.