GM Seeks Tariff Exemption to Keep China-Made SUV on U.S. Market
(Bloomberg) -- General Motors Co. asked the Trump administration to exclude its China-built Buick Envision from import tariffs, saying they would harm the company's ability to compete in the U.S. luxury sport utility vehicle market.
GM sold 210,000 Envisions in China last year and just 42,000 in the U.S. -- not enough deliveries in its domestic market to support a U.S. manufacturing plant. But the model is still needed to field a complete lineup and take on the likes of Audi, Lexus and Mercedes-Benz, the carmaker said in a July 30 letter to U.S. Trade Representative Robert Lighthizer.
"In order to have that vehicle available in the U.S. market, this is the only way that that can work for us," GM President Dan Ammann told reporters Friday at an event in Detroit.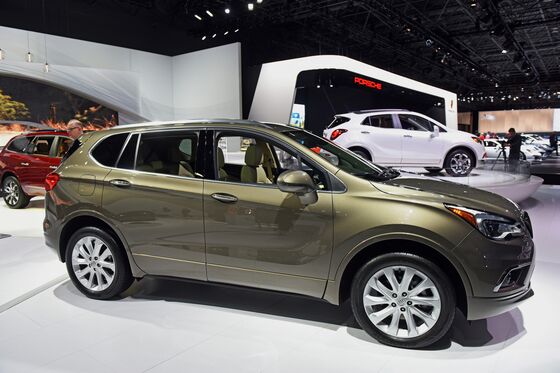 President Donald Trump's administration said in June that it planned to impose 25 percent duties on Chinese products including motor vehicles, which could boost the price of a $31,995 Envision by about $8,000. Trade tensions have kept escalating since then, with Beijing announcing a list Friday of $60 billion worth of U.S. imports on which it plans to apply tariffs if Trump follow through on his latest threats.
Carmakers across the world, from Germany's BMW AG to Hyundai Motor Co. of South Korea, have separately urged Trump not to impose higher duties on imported cars in general under a Commerce Department investigation of whether they pose national security risks. GM itself warned in June it might shrink U.S. operations and cut jobs if bigger levies are implemented.
"While the volume of Envisions sold in the U.S. is small, it is strategically important and essential to the Buick brand," Craig Glidden, GM's general counsel, said in the company's request for exclusion. "A 25 percent tariff on the Envision may eliminate the vehicles from Buick's U.S. offerings."
Sales of the Envision in China and in the U.S. "both lead to significant repatriation of funds" to invest in U.S. manufacturing and development of next-generation automotive technology, Glidden said.