Global Uncertainty Gauge Enters 2019 at Record High Level
(Bloomberg) -- Chatter surrounding the 2020 presidential election, the government shutdown and tax policies are making Americans nervous. And the rest of the world feels uneasy too.
The Global Uncertainty Index, a measure of unpredictability in 20 countries, reached a record level in December. The index, developed in 2016 by the Economic Policy Uncertainty researchers Scott Baker, Nick Bloom and Steven Davis, is based on the frequency that newspapers cite "uncertain" or "uncertainty" in relation to economic policy.
The U.S., China and Eurozone, which are some of the biggest components in the index, are individually seeing high levels of uncertainty, according to Scott Baker, associate professor of Finance at Northwestern's Kellogg School of Management.
"The declines in growth last month in several European countries creates uncertainty," Baker said. "When the economy is doing great, there is less demand for the government to do something."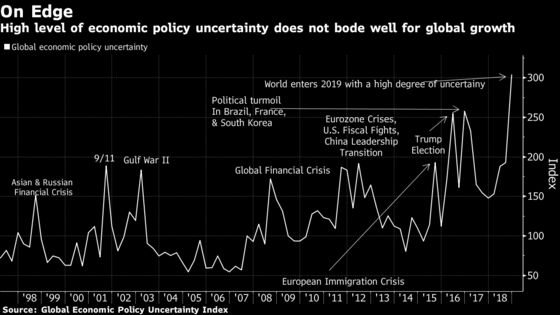 In the U.S., the government shutdown lifted the index to a record high in January, surpassing the levels reached in the aftermath of 9/11. Americans were uncertain how a government shutdown might impact the economy. The U.S. index is based on search results of 10 major U.S. newspapers including the Washington Post and the Los Angeles Times.
"A lot of these newspaper articles describe uncertainty about the path of future government policy," said Baker said.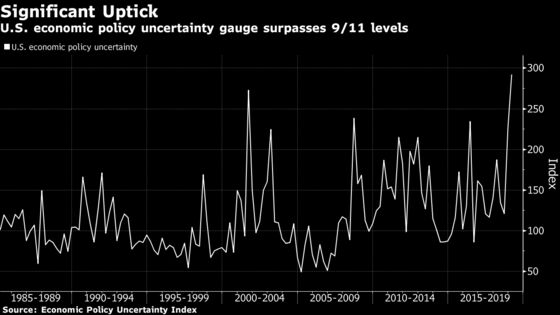 Due to the negative attention, consumers views on the current state of the national economy "have significantly weakened in January due to the shutdown." Economic conditions are negatively seen "due to the worse-than- anticipated impact of the shutdown on the economy," said Richard Curtin, director of the University of Michigan consumer survey, in a separate U.S. consumer sentiment report.