Global Trade Growth Slowly Losing Steam as Business Feels Pinch
(Bloomberg) -- Global trade is continuing to lose a little steam amid an escalating tariff battle between the world's two biggest economies.
The conflict between the U.S. and China escalated this month when Donald Trump's administration slapped levies on $200 billion of Chinese goods, and the latter retaliated by implementing its own tariffs and canceling negotiations.
In a report on Thursday, DHL said its trade barometer weakened in September, dropping to the lowest since 2016 and indicating a slower pace of growth in the months ahead. It noted "rising political tensions."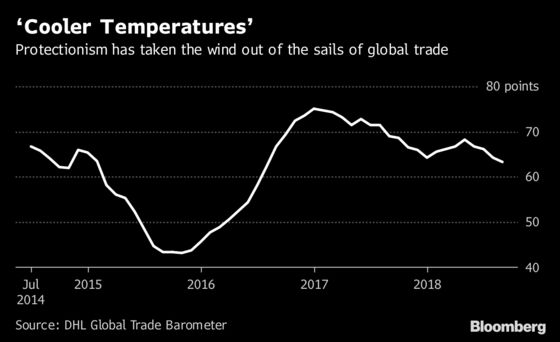 "After months of hot conditions and bright prospects in world trade, temperatures are dropping," said Tim Scharwath, chief executive of DHL Global Forwarding.
A monthly trade monitor by the Dutch statistics office has also come off the boil in 2018. Given 2017's stellar year for the world economy, it's not easy to say how much of the decline is simply a return to more a sustainable pace of growth and how much is down to trade tensions.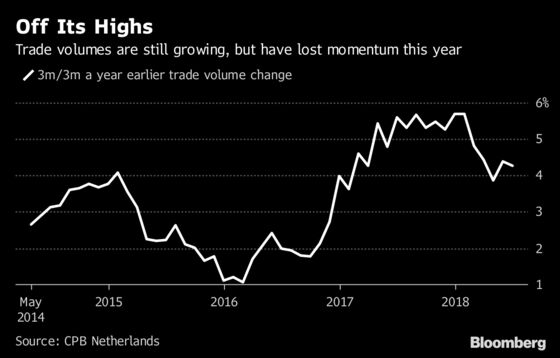 But companies have certainly felt the impact of the tariffs. In Germany, BMW AG cut its profit forecast this week, while Ford Chief Executive Jim Hackett told Bloomberg on Wednesday that metal tariffs took $1 billion in profit from the company.
He urged the U.S. and China to resolve the issue "quickly," adding: "If it goes on longer, there will be more damage."
The OECD said this month that global growth is "hitting a plateau" and there's "high uncertainty" because of escalating protectionism. UBS Chairman Axel Weber said Wednesday that he expects to see an impact on the U.S. economy at end of the year and "some soft spot into the first half of next year."
"We don't see it in the data yet, but clearly with all the tariffs that are in the pipeline, that's going to impact, at least as a one-off on the level of performance," he said in a Bloomberg Television interview. "And it will linger some time."