Global Factories Feel the Pain From Trump's War on Free Trade
(Bloomberg) -- Factory activity plunged from Asia to Europe in September, reflecting how few countries are left unaffected by a U.S.-led shake-up of international trade policies.
Chinese manufacturers said output took a hit amid the worst contraction in export orders since 2016, leading similar trends across Taiwan, Vietnam, and Indonesia. Confidence continued to plummet at Japanese firms, while euro-area factory output struggled as companies voiced concerns over global protectionism.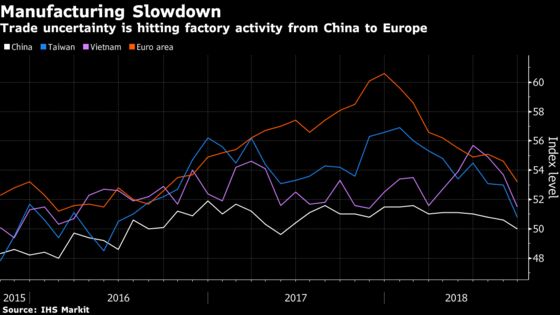 The data come just as the U.S. starts to make headway on trade talks with some of its major partners -- with the exception of China. President Donald Trump agreed on a renegotiated trade pact with Canada and Mexico this weekend, signed a deal with his South Korean counterpart last week, and is opening talks with Japanese Prime Minister Shinzo Abe. In contrast, he has expanded tariffs to $250 billion of Chinese goods and warned of more to come.
In Europe, leaders are engaged in a delicate balancing act of working with the U.S. to address common complaints while also trying to convince Trump to roll back tariffs he imposed this year and dissuade him from instating more.
Even so, the region's companies are taking on less work amid trade risks, says IHS Markit, which compiles gauges of economic activity, adding that some indicators suggest the worst might be "yet to come."
"There's still some broader issues to do with trade and a lot of those will extend to the U.S.-China trading relationship," Janet Henry, HSBC global chief economist, told Bloomberg Television. "Still, there's possible disruption to supply chains that may come through. Looking at it from a European perspective and an Asian one, the big way that the concerns about trade is impacting is on investment sentiment."
In China, two gauges of manufacturing activity worsened in September. The one which better reflects sentiment among smaller, private firms is flirting with contraction for the first time since May 2017. With little room for optimism on external demand, the outlook for China's economy hinges increasingly on the effectiveness of targeted stimulus measures being rolled out this year in the form of tax cuts and infrastructure spending.
What Our Economists Say...
"The weak PMI readings raise concerns of a faster deceleration in China's growth and call for stronger policy measures. The downward pressures on the economy are intense, with global demand slowing and a pro-growth policy yet to have a clear impact."

-- Chang Shu and Qian Wan, Bloomberg Economics
Bloomberg Economics's early indicators on China's economy foreshadowed the pullback, showing that the outlook deteriorated in September. The report gives an advance picture of what's happening in China by aggregating the earliest-available indicators on business conditions and markets.
In Japan, analysts say many companies are keeping a close eye on possible consequences of the escalating trade war between the U.S. and China, the country's biggest trading partners. While concerns may have contributed to the third-quarter decline in manufacturing confidence, the recent decision by the U.S. to hold off on imposing tariffs on Japanese auto exports could support sentiment in the next survey.
The euro area has seen output slide to the weakest pace in two years, and lower levels of business optimism and order growth are signs that a recent decline in backlogs of work might continue.
IHS Markit and the Institute for Supply Management will release gauges for the U.S. later on Monday.