Global Clouds Tame Europe's Top Hawks as Czechs Hold Rates
(Bloomberg) -- The Czech central bank signaled a period of stable borrowing costs for several quarters as the global economic slowdown ties the hands of Europe's most aggressive inflation fighters.
With monetary authorities from the U.S. to the euro zone moving to resume economic stimulus, the Czechs kept the benchmark interest rate at 2% for a second meeting on Thursday. The pause follows eight rate hikes since 2017, the most in Europe over that period.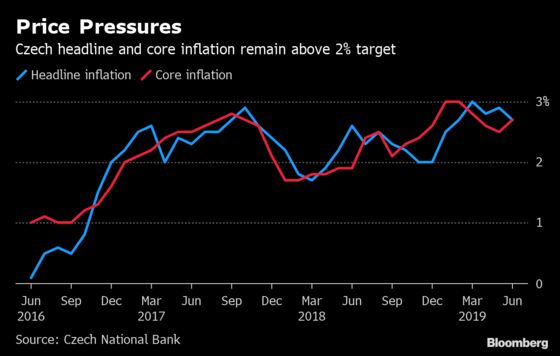 Debating a forecast published after the meeting, which implies a "modest" rise in market rates this year followed by a decline in 2020, the bank board concluded that there's no need to lift borrowing costs, Governor Jiri Rusnok told reporters. Stable interest rates remain the most likely scenario in the coming quarters, he said.
"In the end, the prevailing view was that there's no need to react in some overly activist way," Rusnok said. "So the board in the end chose to adopt a strategy of rather smoothing out the interest-rate path."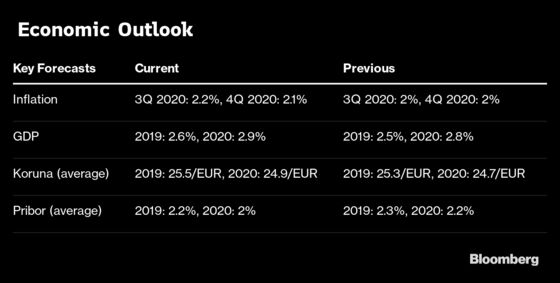 While signals from the economy are bolstering arguments for higher borrowing costs, rate setters are also wary of global risks that could hurt the country's export-oriented manufacturing businesses.
Czech inflation is running above the 2% target, consumer and government spending remains strong and exports have so far shown resilience to the euro-region slowdown. But July's purchasing managers index fell to the lowest in a decade, indicating industrial weakness down the road and adding to reasons for caution about further monetary tightening.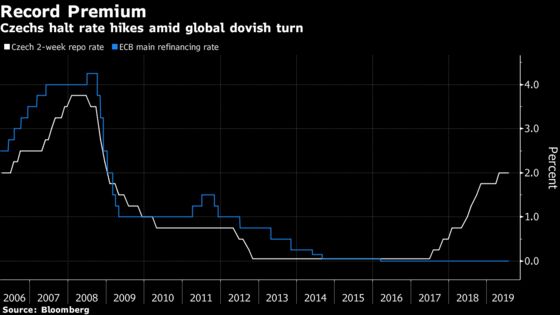 The U.S. Federal Reserve delivered the first rate cut in over a decade on Wednesday and signaled there's potential for more. The euro area's economic expansion slowed dramatically in the second quarter, the latest in a string of reports flagging deteriorating prospects that increase the chance of more European Central Bank stimulus. Poland and Hungary have held borrowing costs stable.
The koruna slid as much as 0.3% to the weakest level against the euro in two months as the central bank flagged "slightly anti-inflationary" risks to its new forecast. It mentioned a more pronounced slowdown in demand for Czech exports as the main threat.
While money markets are pricing in as many as two Czech interest-rate cuts in the next 12 months, Rusnok said there was an equal likelihood that the next Czech rate move will be up or down.
"While Rusnok's comments about the board debate sounded relatively hawkish, the ultimate takeaway for the market is that Czech rate hikes are most likely off the table," said Jakub Seidler, the chief economist at ING Group NV's unit in Prague.