Treasuries Join Global Rally in Bonds as Economic Outlook Sours
(Bloomberg) -- Benchmark Treasury yields dropped to the lowest level in almost a year as investors scrambled to seek the safety of government bonds on concern the global economy could be stalling.
The difference between the yields on 10- and two-year debt narrowed as signs growth may be slowing in China spurred demand for longer maturities. Meanwhile, the yield on Germany's benchmark notes fell the most since May after manufacturing sectors in Italy and France shrank.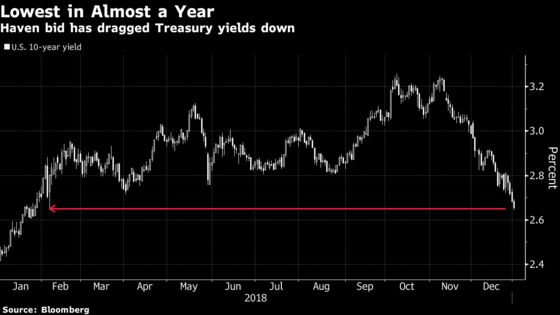 "Markets are running in fear of an economic slowdown, so now any signs of a U.S. or wider global slowdown are seen as a negative," said Jason Simpson, a rates strategist at Societe Generale SA. "On that front many of the PMIs have not been great -- Italy and France are both below 50 -- so this is feeding the risk-off market sentiment."
The yield on 10-year Treasuries fell as much as four basis points to 2.65 percent, the lowest since Jan. 26. The move follows a tumultuous December that saw more than 30 basis points wiped off the 10-year rate amid a sell-off in stocks, holiday-thinned trading and a repricing of expectations around Federal Reserve interest-rate increases.
BMO strategists led by Ian Lyngen said in a note Wednesday that their present concerns are centered on the question of "whether or not the bond rally has gone too far, too fast." While they are constructive on Treasuries for 2019 and are on board with the idea that the Fed might struggle to keep hiking rates, "the low liquidity offered during the holiday trading period introduces a degree of apprehension" regarding the sustainability of the move, they wrote.
Yields on 10-year German bonds dropped as much as nine basis points to 0.15 percent, the lowest since November 2016, while those on gilts fell as low as 1.18 percent, down almost 10 basis points. Most European stock indexes slid as investors returned from holidays.
It's too early to know if this move signals a trend toward even lower core yields in early 2019 given a wave of planned bond selling by European governments is due in coming weeks, said Martin van Vliet, a senior interest-rate strategist at ING Groep NV.
Spain, Germany and the U.K. are among those set to offer debt to investors in the next week, with Barclays Plc estimating issuance at 28 billion euros ($32 billion).