Gilt Curve Is the Flattest in Two Years. It May Not Be Done Yet
(Bloomberg) -- At nearly the flattest level since 2016, the U.K. government bond curve may have more room to compress.
The yield premium on 10-year gilts over two-year ones almost halved in the past year to 51 basis points as opposing forces acted on the two tenors. Short-dated rates have been boosted by expectations that the Bank of England will raise interest rates as early as August, even as longer-maturity ones were weighed down by Brexit uncertainty and domestic political turbulence.
Morgan Stanley sees scope for the British bond curve to flatten further, arguing that the market is currently underestimating the BOE's potential to tighten policy, and recommends that investors position for a narrowing of the five- to 30-year spread. HSBC Holdings Plc also expects more compression, and favors focusing on the 10- to 30-year gap for related trades.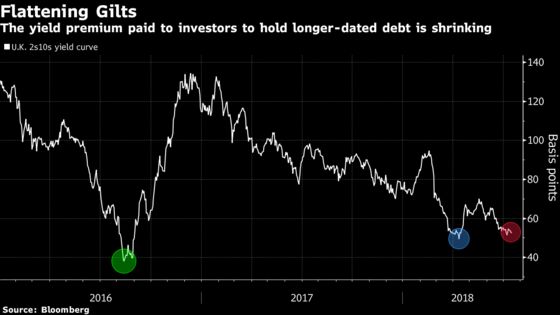 "Further out the curve, we expect the curve-flattening move to continue and so we've been recommending 10s30s flatteners," Daniela Russell, head of U.K. rates strategy at HSBC, said in emailed comments. "Over the medium term, the structural drivers -- like high debt, demographics, and the drag from poor productivity -- will continue to weigh on long-end yields. Upward pressure on front-end yields would" also fuel the curve compression, she said.
The 10- to 30-year yield spread may narrow to as little as 20 basis points, from about 45 currently, according to HSBC. For the two- to 10-year gap, a break below 50 basis points would mark the lowest level since 2016. Such a move would be possible if the BOE is "in anyway hawkish" in August, according to UBS Group AG strategist John Wraith.
"The 2s10s can flatten further if the Monetary Policy Committee acts or communicates hawkishly even as the concerns about how the Brexit process evolves intensify," he said in emailed comments.
The curve-flattening trend has been a key theme across global bond markets for the best part of a year as central banks have taken turns to tighten monetary policy against a backdrop of stronger economic growth. But in the U.K., the picture is distorted somewhat by the country's decision to leave the European Union, which spurred inflation via pound depreciation even as economic performance stalled relative to its peers.
The yield on 10-year gilts fell two basis points to 1.26 percent on Tuesday, while those on two-year securities were steady at 0.75 percent.
U.K. money markets are currently implying an 82 percent probability that the BOE will raise its benchmark rate by 25 basis points in August. The case for a rate hike may be supported by a raft of data this week, including inflation figures Wednesday and retail sales Thursday.
Morgan Stanley's base case is for the U.K. central bank to raise rates two more times in 2019, after Brexit takes effect.
"Despite the high probability priced for August, the market continues to price only three hikes over three years, so the path remains shallow beyond the immediate future," strategist Shreya Chander wrote in a note to clients. "We see room for more to be priced in both the very front end and further out the curve."