Germans' Inflation Expectations Surge Above 3%, Bundesbank Finds
(Bloomberg) -- Germans are bracing for a surge in inflation far above the goal the European Central Bank tries to achieve across the 19-nation euro zone.
Consumers in Europe's largest economy predicted in December that price gains would average 3.1% over the next 12 months, according to a survey conducted by the Bundesbank. That's the highest level since the institution started asking 2,000 individuals in April about their views on prices, interest rates and other economic variables.
The Bundesbank forecasts that German inflation will accelerate to 1.8% this year from -0.7% at the end of 2020. The ECB aims to keep the euro-area rate just below 2%, a level it hasn't reached in more than two years.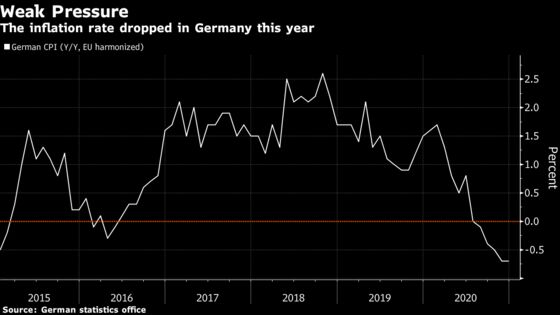 Panelists cited prospects of higher gasoline prices following the introduction of a carbon tax on fuels, gas and heating oil, as well as the expiration of a temporary sales-tax cut as factors behind their expectations for faster inflation, the Bundesbank said on Wednesday.
The survey adds to evidence that price perceptions among the general public can diverge sharply from official statistics and projections. A 2019 Bundesbank study found that people with lower incomes tended to predict stronger gains -- as did women and residents of the former East Germany.
Measuring inflation is one focus of the ECB's ongoing strategic review.