German Unemployment Jumps as Ifo Predicts Slow Economic Recovery
German unemployment surged in June as one of the country's leading economic research institutes warned of a slower-than-expected economic recovery from the coronavirus pandemic.
Another sharp gain last month has taken the number of job losses in the second quarter to 678,000 and the total to just below 3 million, a threshold not broken since 2011. Yet more redundancies were prevented by generous state wage support, the Federal Labor Agency said Wednesday.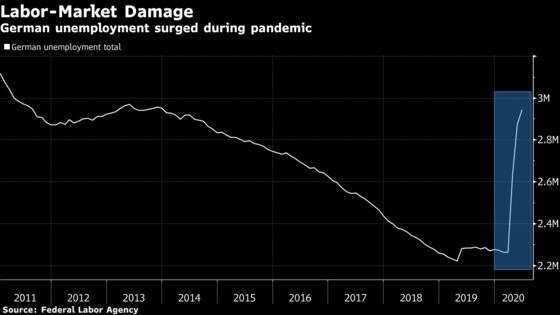 The report is the latest hinting that the country's road to recovery will be long. The Ifo institute, which five weeks ago predicted an economic rebound of more than 10% next year, sharply lowered its projections to growth of 6.4%.
While households have started to spend again -- retail sales surged in May -- a recent survey by the DIHK chambers of commerce shows that one in two companies doesn't expect a return to normality before next year at the earliest.
The number of people working reduced hours fell to 6.7 million in June from 7.3 million the previous month. While hospitality, transport and retail recorded some of the greatest drops as lockup rules were gradually phased out, furloughs continued to rise in Germany's manufacturing sector, according to a separate report.
Purchasing managers reported easing declines in factory output and new orders as more businesses started to ramp up operations. But the report also showed continued damage to the labor market. With many manufacturers still operating well below capacity, the pace of job cuts remained among the fastest since the financial crisis a decade ago.
Policy makers have warned of a difficult period ahead. The International Labour Organization said Tuesday that jobs lost in the crisis so far won't be fully recovered in the second half of the year even under the most optimistic assumptions.