German Unemployment Falls to Lowest Level Since Virus Outbreak
German unemployment fell for a fourth straight month as businesses replenished their workforce and continued to recover from Covid-19 lockdowns. 
The decline of 53,000 in August was more than economists expected. It pushed down the jobless rate to 5.5%, the lowest since March last year. 
The German economy is set to reach its pre-pandemic size in the coming months, though uncertainty over the outlook has increased as of late. The country's strong manufacturing sector is grappling with supply-chain problems that are holding back production and could damp the rebound.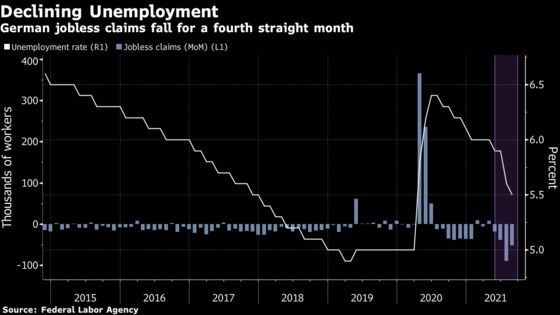 Infections are also on the rise again, while the vaccination rate -- some 60% of the German population are fully inoculated by now -- has been slowing. Politicians, who face a national election on Sept. 26, have still vowed to avoid another lockdown.
That's encouraging companies to add staff. A gauge by the European Commission measuring employment expectations rose in August to the highest level since late 2018. An index from the Federal Labor Agency tracking demand for labor also improved.
At the same time, companies have been making less use of state wage support, which helped millions of workers hang on to their jobs during the pandemic. The number of people in the program declined to just over 1 million in July, the lowest since Feb. 2020, according to the Ifo Institute.