German Unemployment Drops Further as Firms Signal Optimism
(Bloomberg) -- German unemployment extended its five-year slide, suggesting companies in Europe's largest economy are confident in the outlook despite recently emerged risks.
The number of people out of work fell by a seasonally adjusted 8,000 in August to 2.33 million, the Federal Labor Agency in Nuremberg said on Thursday. That's in line with the median estimate in a Bloomberg survey of economists. The jobless rate held at a record low of 5.2 percent.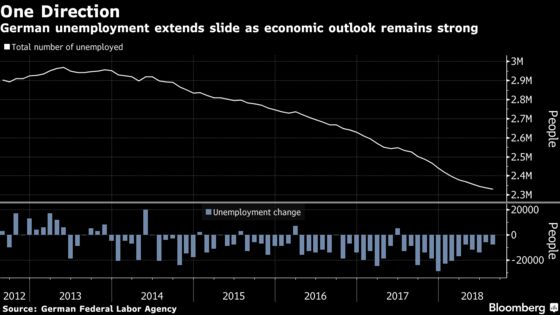 Germany's economic expansion continued at a robust pace in the second quarter amid strong domestic demand, and the Bundesbank says the nation remains on a "sound growth path." While momentum at home -- as well as an apparent truce in the European Union trade spat with the U.S. -- helped prop up business confidence this month, the outlook is threatened by weaker growth in China, emerging-market turmoil and protectionism.
The strong labor market has been one of the main growth drivers. Thursday's report showed joblessness fell by about 5,000 in west Germany and by 4,000 in the eastern part of the country.
"Both employment growth as well as the trend in unemployment don't seem to be approaching any sort of turning point," labor agency head Detlef Scheele told reporters. "The labor market is one thing that doesn't need to be worried about at the moment. It's rather a question of how you fill those positions that are still open."
Higher employment is bolstering wages, thus contributing to an increase in general price pressures. Germany's inflation rate probably held at 2.1 percent this month, according to a separate survey before a release later on Thursday. Unemployment data for the euro area are due on Friday, and are forecast to show the July rate dropping to 8.2 percent, the lowest in almost 10 years.